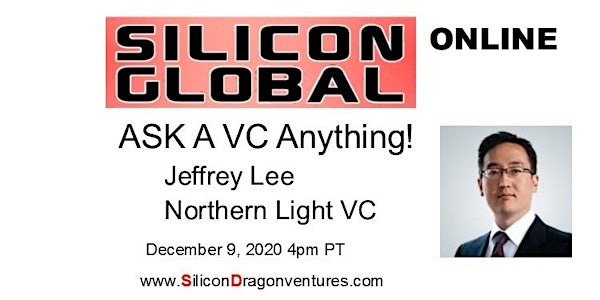 Ask NLVC's Jeffrey Lee Anything!
Ask A VC Anything! Jeffrey Lee, NLVC
About this event
Silicon Global Online Presents
Ask A VC Anything!
featuring
Bio: Jeffrey Lee, Managing Director & Co-founder, NLVC
Jeffrey Lee is a Managing Director and Co-founder of Northern Light Venture Capital (NLVC) in Silicon Valley. NLVC recently saw two of its portfolio companies go public: Segway Ninebot, in the first depository receipts ("CDR") listed in the China stock market and iRay Technology, a leading medical imaging technology firm based in China that NLVC funded as a Series A investor.
Jeffrey Lee has been involved in technology venture capital and entrepreneurship for 20 years, primarily focused on North Asia. In 2005, he co-founded NLVC, which focuses on early stage technology investment in China. At Northern Light, Jeff chairs the investment committee and oversees strategic planning, investor relations, and value-add activities for the portfolio.
Previously Jeff worked in strategic and product marketing at Agilent Technologies Wireless Semiconductor Division, the predecessor of Broadcom Limited (NASDAQ:AVGO), working on front-end RF components for high speed wireless networks. This opportunity stemmed from running business development at Wavics Inc., a venture backed startup developing advanced GaAs wireless components that was acquired by Agilent. Earlier in his career, Jeff co-founded an early stage venture fund focused on South Korea, Newton Technology Partners. Jeff began his career in TMT corporate advisory at Salomon Smith Barney and Jardine Fleming, a Hong Kong-UK based merchant bank. Jeff received an AB in economics from Harvard and an MBA from the Wharton School, University of Pennsylvania.
Bio: Rebecca A. Fannin
Rebecca is the founder of news and events group Silicon Dragon Ventures. Her journalistic career covering global innovation began in Silicon Valley during the dotcom era. Following the venture capital trail to Asia, she was one of the first American journalists to write about China's entrepreneurial boom, interviewing Jack Ma of Alibaba and Robin Li of Baidu, among others. A regular media commentator and speaker, she also has frequently contributed to CNBC and Forbes, and her articles have appeared in Harvard Business Review, CEO and Inc. magazine. Rebecca's three forward-looking books, Silicon Dragon, Startup Asia and her latest title, Tech Titans of China, are a go-to resource on top innovation trends and players. Rebecca has worked in the world's leading tech hotspots as a pioneering journalist and host of numerous events and forums.
About Silicon Dragon on Zoom
Silicon Dragon presents its online series, Ask A VC Anything. We kicked off the series with Bill Tai, a first investor in Zoom. Each week, we feature a VC in a Q&A session. This series helps startups and investors connect and provides valuable insights into what makes each VC tick. Whether you're raising capital, perfecting your business model, scaling during challenging times, or figuring out how to get unicorn status, an IPO or M&A deal, don't miss this series. Register and join us online.