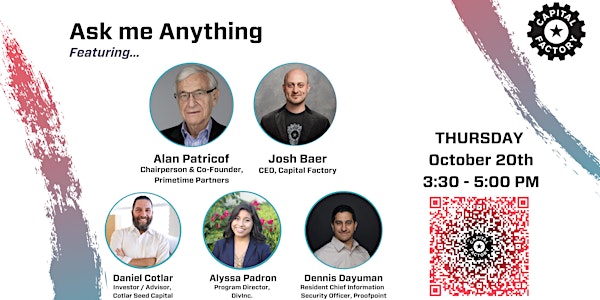 Ask Me Anything
Welcome to Capital Factory's Ask Me Anything!
About this event
Bring your questions, energy, ideas & get some answers. Meet other entrepreneurs, investors, and innovators within the Texas Startup ecosystem. Sign up today to join Capital Factory's online Ask Me Anything. We kick off this event with a conversation between featured keynote speaker, Alan Patricof, Chairperson and Co-Founder of Primetime Partners and Joshua Baer, Founder and Chief Executive Officer of Capital Factory. You'll then have a choice of 4 direct breakout rooms to join and continue the conversation!
Inside Austin's Breakout Room: Daniel Cotlar, Investor / Advisor at Cotlar Seed Capital
Inside Dallas' Breakout Room: Dennis Dayman, Resident Chief Information Security Officer at Proofpoint
Inside Houston's Breakout Room: Alyssa Padron, Program Director at DivInc
Who? New to Texas, Startups, or Tech? AMA is an event for those wanting to learn more about the Texas startup ecosystem. Calling all entrepreneurs, programmers, designers, angel investors, venture capitalists, and innovators of all kinds who are in Texas, thinking about moving to Texas, or just interested in Texas and how to get involved!
Where? Always virtual in Austin, Dallas, and Houston discussion platforms.
When? Every 3rd Thursday of the month | 3:30 pm
Are you located in Austin? We have our monthly member salon at our Center for Autonomous Robotics starting at 5:00pm after the AMA event (with stunning views of Lake Austin)! Join in & network with founders, CF staff, and other AMA attendees.
Register for Members Salon - Click HERE
📣 Space is limited!
*Skip the line - Free registration using the QR Code