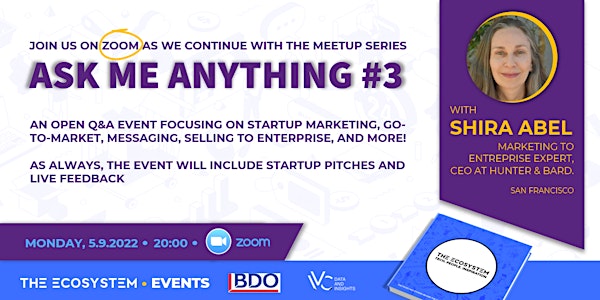 'Ask Me Anything' : Marketing, selling to enterprise and more | Shira Abel
הקונספט ממשיך: פיצ'ינג של סטארטאפים ופידבק בלייב, - הזדמנות נדירה לשאול את שירה על ענייני שיווק, מכירה לחברות גדולות, גו-טו-מרקט, ועוד!
About this event
חשוב:
+ האירוע יתקיים בשפה האנגלית, ודיגיטלית (זום)
+ במיטאפים שלנו הקהל הוא הפוקוס: הכינו שאלות מראש ותרויחו למידה ודיון יעיל ומועיל.
+ קישור יישלח לנרשמות\ים ביום המפגש.
ווווווווווו
20:00 מצגות של סטארטאפים, בלייב
מספר מיזמים יקבלו את הבמה להציג מול הקהל. יעמדו לרשותם 5 דקות, באנגלית.
לאחר מכן, הקהל מוזמן לתת פידבק מתוך התרשמות אישית: מבנה, תוכן, עיצוב, הגשה, מה הבנת ומה לא, מודל עסקי... מחשבות, טיפים, הצעה ליצור עמכם.ן קשר - מה שתרצו.
אין כמו פידבק אמיתי ובלתי תלוי - חכמת ההמונים!
את.ה יזם? יזמת? מעולה!
אין לך הרבה הזדמנויות לשכלל ולשפץ את הפיץ' שלך, ביומיום. השתמש.י בהזדמנות זו בכדי לקבל פידבק אמיתי בזמן אמת! מספר המקומות לפיץ' מוגבל, אז מהרו ושלחו לנו את המידע על המיזם שלכם.ן, בקישור הזה:
https://docs.google.com/forms/d/e/1FAIpQLScKdx1M0_W_2RE3sGn6hTtfGWqhnnPlL3bDLHoVrus0CtbiSg/viewform
20:45 סשן דיון פתוח בסגנון "Ask me anything", עם Shira Abel (באנגלית)
It's your golden opportunity to ask Shira anything you wish about selling to enterprises, Go-To-Market, messaging, problems in the marketing, general marketing questions, and more.
Shira Abel is an experienced marketing expert and CEO at Hunter & Bard - an award-winning B2B marketing strategy & creative agency based in San Francisco. Over the years, Shira served as CMO for multiple SaaS startups, mentored many founders, and is teaching Marketing for Startups at Berkeley University.
שותפים BDO, IVC-ONLINE, THE ECOSYSTEM
נתראה!
שירה www.linkedin.com/in/shiraabel
דורון www.linkedin.com/in/doronsimhi
ארז www.linkedin.com/in/erezgavish
המייל שלנו: hi@theecosystem.xyz