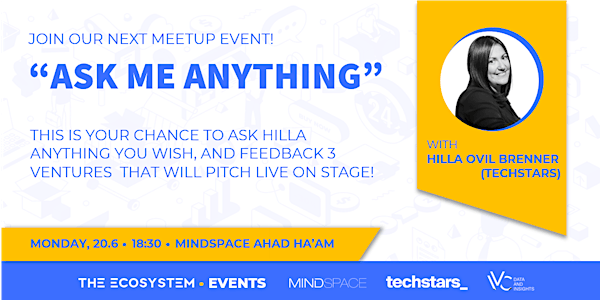 "Ask Me Anything" + live pitching & feedback!
בחלק הראשון - נשמע פיצ'ים של יזמים.יות, והפעם - הפידבק יהיה מכם.ן שיושבים בקהל! בחלק השני נעשה שיחה ודיון בהשתתפות הקהל עם הילה מטקסטארז'!
When and where
Location
Mindspace Ahad Ha'Am 54 אחד העם תל אביב-יפו, מחוז תל אביב 6579402 Israel
About this event
חשוב:
+ שפת האירוע היא עברית. עם זאת, ייתכן וחלק מהפיצ'ים יהיו באנגלית.
+ במהלך האירוע יוגרלו 2 ספרים של The Ecosystem מבין המגיעים.ות :)
+ הכניסה לאירוע בחינם אך מחייבת רישום מראש.
ווווווווווו
18:30 התכנסות וקפה
19:00 מצגות של סטארטאפים, בלייב
אומרים שפיץ' חזק יכול לשכנע משקיעים בשלושים שניות, אבל אנחנו נאפשר לכם.ן להציג ב-3 דקות :)
מספר סטארטאפים יקבלו את הבמה כדי להציג לקהל את המוצר שלהם, ואז והקהל באירוע (כן כן) ייתן את הפידבק וההתרשמות שלו אל המציגים.ות.
יזם? יזמת? בוא.י לדייק את הפיץ' שלך מול קהל בזמן אמת! מספר המקומות לפיץ' מוגבל, אז מהרו ושלחו לנו את המידע על המיזם שלכם.ן, בקישור הזה.
19:30 סשן דיון פתוח "Aske me anything", עם הילה אוביל ברנר!
למי שמשום מה לא מכיר, הילה היא (בין היתר) יזמית ומנהלת תכנית ההאצה Techstars Tel Aviv.
אנו מזמינים אתכם ואתכן לשיחה בלייב ובה נדבר על יזמות, קהילות, הנפקות, האצה, מנטורינג, ועוד.
ווווווווווו
נתראה!
דורון וארז | hi@theecosystem.xyz