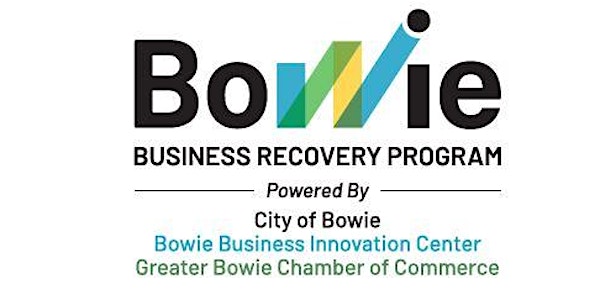 Ask How Consultants Use Digital Marketing to Attract New Clients
Bowie Business Recovery One-on-One (Individual) Sessions
About this event
The Bowie Business Recovery (BBR) program offers a FREE Open Door Session exclusively for Bowie businesses and hosted by Danielle Robinson, Co-Founder of Where's My Meeting. Danielle will call each registrant during the Open Door time period for a one-on-one-one telephone conversation where she will answer questions about how consultants can use digital marketing to attract new clients.
Priority will be given to businesses located in the City of Bowie.
The Bowie COVID-19 Business Recovery Assistance Program delivers online technical assistance to help Bowie businesses accelerate their post-pandemic economic recovery. This program is a collaboration between the Bowie Business Innovation Center business accelerator and the Greater Bowie Chamber of Commerce, funded by the City of Bowie.
Bowie BIC is a hub for business acceleration where technology companies and government contractors in Prince George's County and the City of Bowie access the entrepreneurial resources, capital and connections they need to thrive. (www.bowiebic.com )