Ask for Jane screening, panel discussion & reception
Ask for Jane recounts the story of a group of young women establishing an underground abortion resource network in Chicago pre-Roe v. Wade.
About this event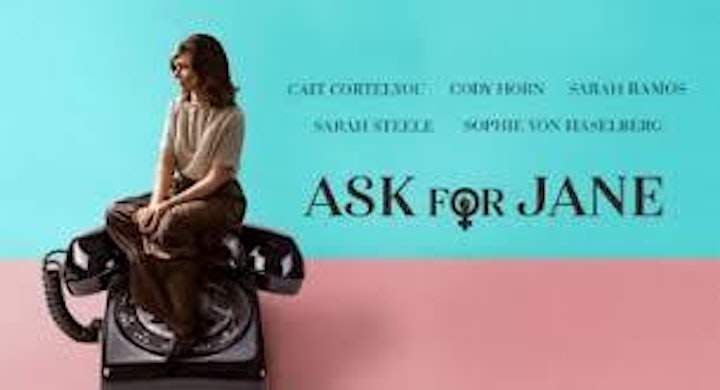 Get popcorn and a soda/water on us and enjoy this screening of Ask for Jane. Based on a series of real events, Ask for Jane recounts the story of a group of young women who established an underground abortion resource network in Chicago that gave over 11,000 women access to this service between 1969 and 1973, preceding Roe v. Wade. It is because of feminist pioneers, like the Jane Collective, that women reclaimed entitlement to their bodily autonomy and reproductive rights.
The following panel discussion, featuring representatives from Ask for Jane, NIRH, the Chicago Abortion Fund and one of the "Jane's," will be a vibrant discussion about the frightening parallels 46 years later, a look ahead towards the 2020 election and the current U. S. Supreme Court case that could be the one to overturn Roe v. Wade, and the work being done to ensure that legislatures in states and cities across the country are moving forward protections for abortion rights and equitable access to abortion.
After the panel discussion, join us for a reception for continued fellowship and enjoy a beer or a glass of wine and light hors d'oeuvres.
All proceeds from the event will support NIRH and the Chicago Abortion Fund
Organizer of Ask for Jane screening, panel discussion & reception
The National Institute for Reproductive Health (NIRH) builds power at the state and local level to change public policy, galvanize public support, and normalize women's decisions about abortion and contraception.
 Using a partnership model, we provide state and local advocates with strategic guidance, hands-on support, and funding to create national change from the ground up. We are a force multiplier – we form strategic partnerships with a wide range of organizations to directly impact the reproductive health and lives of women across the country. Since 2008, NIRH has provided direct grants and hands-on support to 175 reproductive health, rights, and justice organizations in 43 states and 64 localities across the country.
At the national level, we go where others don't, engaging in groundbreaking public opinion research, proactive policy initiatives, and innovative advocacy campaigns to shape a new national conversation about reproductive freedom.
Our political arm, the NIRH Action Fund, works in parallel to change state and local electoral and policy landscapes.
We don't just push back against restrictions on abortion and contraception; we fight for a society in which everyone has the freedom and ability to control their reproductive and sexual lives.