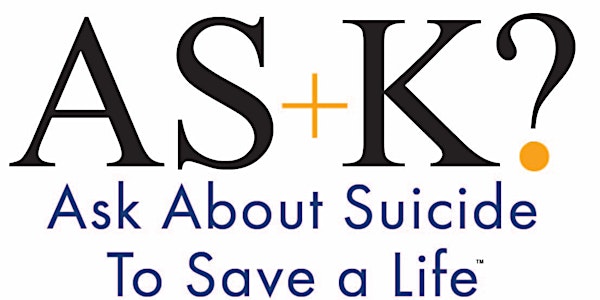 AS+K? About Suicide Workshop Leader Training Houston
AS+K? About Suicide to Save a Life Training of Workshop Leaders Houston, Texas
When and where
Location
McKinney Conference Center 7200 Northwest 100 Drive Houston, TX 77092
About this event
AS+K? About Suicide to Save a Life 
Training of Workshop Leaders
McKinney Conference Center
7200 Northwest 100 Drive
Houston, TX 77092
AUGUST 16 , 2022 8:30-5:00pm 
AS+K? Suicide to Save a Life Training of Workshop Leaders is designed to equip community members to conduct a 2-4 hour AS+K? suicide prevention gatekeeper workshops in their communities.  This course will equip workshop leaders to help their community partners in developing the following skills: 
Know the basic information about suicide prevalence, risk and protective factors and warning signs 
Understand the role of the gatekeeper in suicide prevention 
Understand that suicide can be prevented from a public health perspective 
Have the confidence to respond to someone at risk 
Connect someone at risk to qualified care. 
Workshop Leader Prerequistes: 
All workshop leader candidates should be screened for suitability by their employer or training sponsor prior to attending.   It is recommended that candidates: 
Have received previous training or education in suicide prevention basic information;
Ideally, candidates have experience as a trainer, workshop leader, or other presentation skills;
Participants agree to present the workshop and register their trainings;
This training  and the required competency test is delivered in English
This course is generally not recommended for persons who have experienced recent, close suicide loss. If there are questions about suitability, please contact us.
PLEASE NOTE: Trainer certification is at the sole discretion of the Master Training Team. You must pass a competency quiz to complete the training. 
Please read the cancellation policy carefully: No refunds are available within 30 days of the training, but substitutions are permissible up to 24 business hours prior to the start of the workshop. Contact Lisa.Sullivan@texassuicideprevention.org for substitutions or more information. 
CONTENT WARNING:
This workshop may be difficult for some participants, especially those who have been previously exposed to trauma, suicide loss, lived experience or other similiar experiences. It is highly recommended that a mental health professional be available during this training as the workshop is not intended to diagnose, screen, treat or otherwise provide counsel for any mental or physical health condition.
This workshop is not delivered by workshop leaders who have expertise in clinical mental health care and is for informational purposes only.
If you are concerned about yourself or someone else, please call, text or chat the 988 National Suicide and Crisis Lifeline at 988 or go to your nearest emergency department for assistance. Do not wait.
If you have any concerns about your suitabiility for this workshop, please see your supervisor or contact us at admin@texassuicideprevention.org
WARRANTY and DISCLAIMER:
This workshop and content therin are provided on an "AS IS" and "AS AVAILABLE" basis. THe Texas Suicide Prevention Council, Texas Suicide Prevention Collaborative or any of its members, affilitates, employees, attorneys, volunteers, contractors, consultants, donors, advisors, successors, asigns or agents gurantees the accuracy, completeness or usefulness of any of the content.
While the contents of the AS+K? Workshop were reviewed by subject matter experts and the original ASK workshop curriculum is included in the SPRC Programs and Resources List, the Texas Suicide Prevention Council Texas Suicide Prevention Collaborative, its workshop leaders, employees and contractors assume no warranty of effectiveness or liability of outcomes for reducing suicide deaths, attempts or adverse workshop outcomes.
The mention of trademarks, commerical practices or organizations does not imply endorsement of any organization, federal or state agency or of the Texas Suicide Prevention Council or Texas Suicide Prevention Collaborative.
BY PROCEEDING WITH THIS WORKSHOP YOU AGREE TO THE ABOVE TERMS AND CONDITIONS.