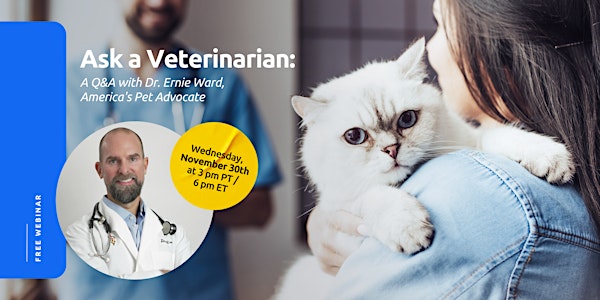 Ask a Veterinarian: Q & A with Dr. Ernie Ward, America's Pet Advocate
Looking for answers from an expert in veterinary medicine? Join us for a live Q & A!
About this event
Now that's what we call a "house call"! Join our free virtual webinar to ask Ernie Ward, DVM, CVFT your cat health questions from the comfort of your home.
While most cats visit the vet once per year, cat parents have thousands of questions about their cat's weight, oral health, behavior, genetic report, and care that can't possibly be answered in a single visit. Do you have questions that you didn't get a chance to ask at your last visit, or need advice on how to approach a health concern with your own veterinarian?
Join our free webinar for an opportunity to chat with Dr. Ward, an award-winning veterinarian with over 20 years of experience, and find answers to your most pressing questions.
*Note: we cannot answer specific questions about your pet's physical care, as we have not seen or treated them as a patient. If your pet has a health emergency, please call your veterinarian or emergency vet hotline.
This event will be recorded to watch at a later date! Please register to receive a copy in your email inbox.
About Dr. Ward:
Dr. Ernie Ward is an award-winning veterinarian, internationally known speaker, impact entrepreneur, author of several books, columnist, and media personality. A 1992 graduate of the University of Georgia, he was voted Speaker of the Year at both VMX and WVC conferences, the 2018 Veterinary Journalist of the Year, and has received many veterinary and civic recognitions throughout his career. When he's not with family or pet patients, he can be found contemplating solutions for both the veterinary profession and planet during endurance athletics, meditation, and on his weekly podcast the Veterinary Viewfinder.
About Basepaws:
Basepaws is a feline health company that developed the #1 at-home DNA & Oral Health tests for cats. Learn about your cat's breeds, traits, genetic health markers, and predispositions to common dental diseases with a simple at-home gum swab, and receive digital results in weeks. Everything we do, we do for our pets' health.