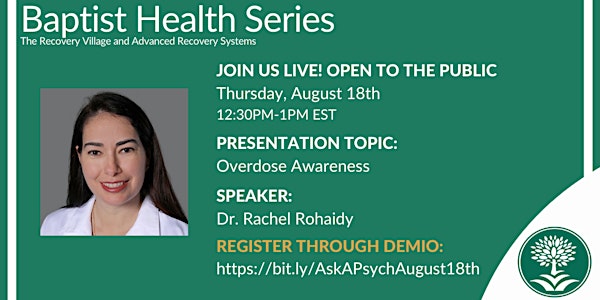 Ask A Psychiatrist: Overdose Awareness
Ask A Psychiatrist: Overdose Awareness
About this event
PLEASE REGISTER THROUGH DEMIO: https://bit.ly/AskAPsychAugust18th
Speaker: Rachel Rohaidy, M.D.
Rachel Rohaidy, M.D., specializes in the prevention, diagnosis, and treatment of mental, addictive, and emotional disorders and provides confidential and compassionate care to people seeking help during crises. She is highly trained in the biological, psychological and social components of illness. Dr. Rohaidy's areas of specialty include general adult psychiatry, acute/emergency psychiatry, addiction psychiatry, inpatient and outpatient detoxification, and substance dependence in pregnant women. She is a member of the American Psychiatric Association and the American Academy of Addiction Psychiatry. She is fluent in English and Spanish.
Description:
Currently, in the United States, there is an opioid crisis affecting millions of people. Opioids are a class of drugs that act directly on opioid receptors found in the brain, central nervous system and the digestive system. Opioids can temporarily make individuals feel euphoric or extremely relaxed. However, when misused, opioids become deadly.
The Recovery Village Palm Beach at Baptist Health is an accredited treatment facility offering evidence-based treatment for drug addiction, alcohol use disorder, and co-occurring mental health conditions.
NEW ONLINE MENTAL HEALTH AND WELLNESS APP:
Nobu is a mental health and wellness app that utilizes strategies and tools shown to effectively manage mental health concerns, all backed by a leading behavioral health care company, Advanced Recovery Systems. Visit NOBU.AI
This event is open to the public, please feel free to join the conversation! The events are roughly 30 minutes. These events are recorded and are not for any CE credit.