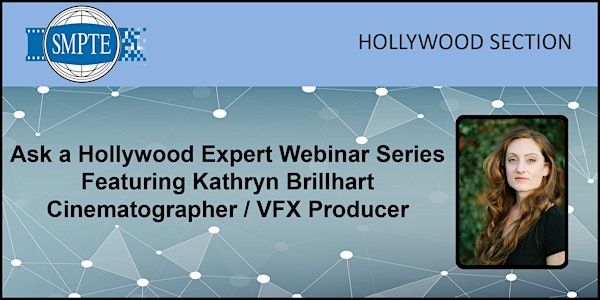 Ask a Hollywood Expert Webinar Series: Kathryn Brillhart
Join SMPTE Hollywood for another "Ask a Hollywood Expert" webinar.
About this event
Join SMPTE Hollywood for another "Ask a Hollywood Expert", an exciting webinar series where some of the brightest minds in the entertainment industry share insights on building a rewarding career.
The series' next session will feature Kathryn Brillhart, a Cinematographer and VFX producer who leverages volumetric capture and visualization techniques, and supervises visual effects to enhance projects. For the past decade, she has helped to redefine best practices and standards in virtual production and has advocated for diversity in the film industry through her role on the Global Board of Directors for the Visual Effects Society. Kathryn is a member of the Virtual Production Committee within the ASC Motion Imaging and Technology Council. Her most recent projects include The Mandalorian, Call of the Wild, The One and Only Ivan, and Dr. Dolittle.
If you are interested in pursuing a challenging and rewarding behind-the-scenes career in Hollywood, this is an event you won't want to miss.
Kathryn will join SMPTE Hollywood manager Kylee Peña in discussing her work and career.
Webinar details will be emailed to you after registration.
As always, SMPTE Hollywood events are free and open to all.
Register Now!