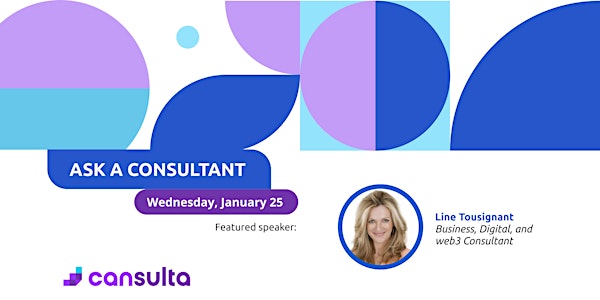 Ask A Consultant: Line Tousignant, Business, Digital, and web3 Consultant
You're invited to Ask A Consultant with Business, Digital, and web3 Consultant, Line! ⭐️
About this event
You have questions and we have answers!
Let us show you how consulting can help solve the business problems that are holding you back.
Join us on Wednesday, January 25th at 2pm ET/11am PT for a discussion and get the answers you need about web3, strategy, and growth! ⭐️
This is a great opportunity to get insights and advice, such as:
How should your customer journey impact your operations and vice versa?
What is the cost of not mapping your customer journey?
Are a buyer journey and a customer journey the same?
Featured Consultant
Line Tousignant, Business, Digital, and web3 Consultant
Live session will be hosted in Zoom with breakout rooms for each consultant to discuss your unique questions and challenges.