ASIST 2-day Training Workshop (March 1&2)
Description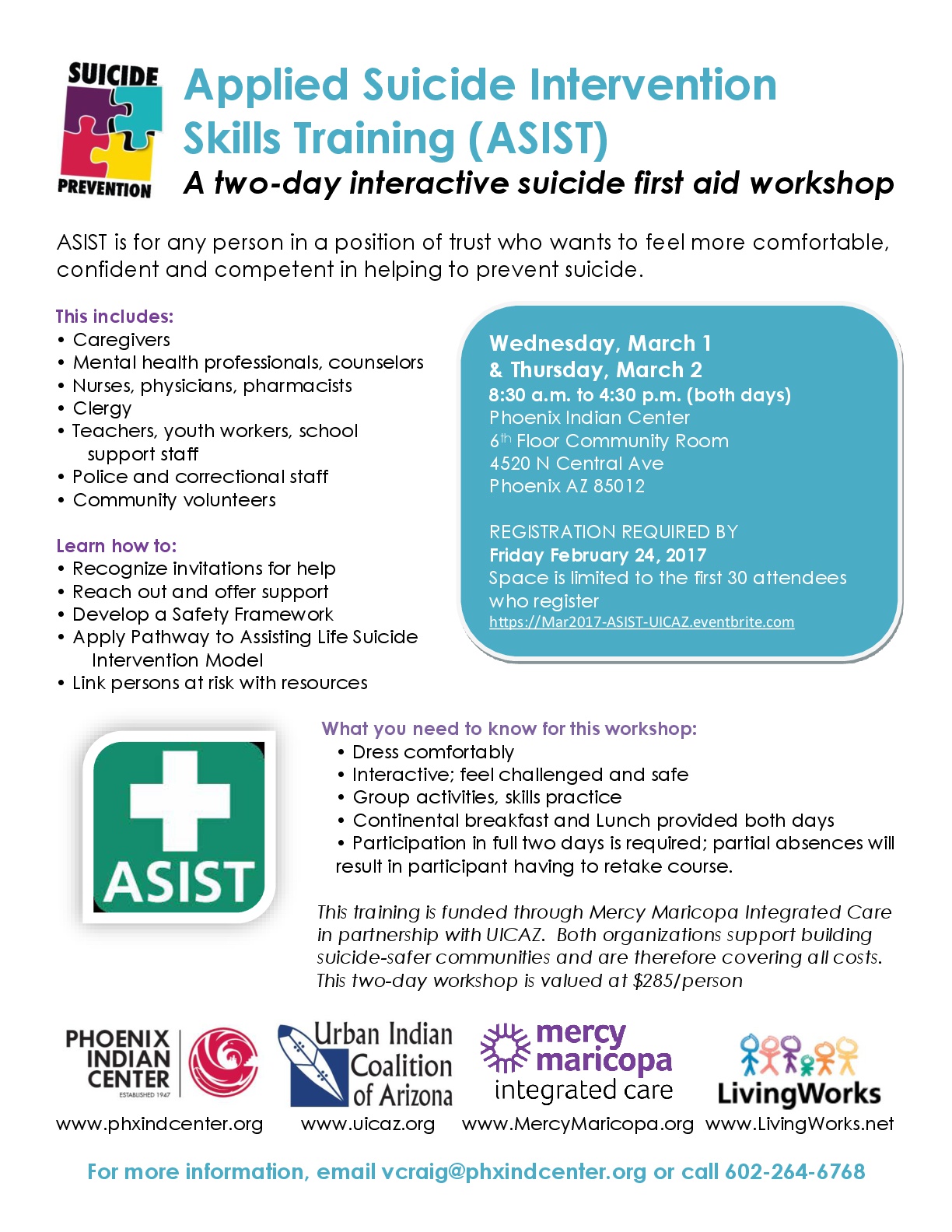 Applied Suicide Intervention Skills Training (ASIST) is for everyone 16 or older—regardless of prior experience—who wants to be able to provide suicide first aid. Shown by major studies to significantly reduce suicidality, the ASIST model teaches effective intervention skills while helping to build suicide prevention networks in the community. ASIST is held over two consecutive days for a total of 15 hours.
ASIST has saved and changed hundreds of thousands of lives around the world.The training values participants' experiences and contributions and encourages them to share actively in the learning process. Some parts of ASIST take place with all participants together, and others take place in a smaller work group. This helps create a balance between safety and challenge. Local resources are provided and their availability in the community is discussed. Participants receive a certificate upon completing the workshop.
Many professionals attend ASIST because suicide intervention skills are essential for their work. In many organizations, ASIST is a mandatory component of training. Nurses, physicians, mental health professionals, pharmacists, teachers, counselors, youth workers, police, first responders, correctional staff, school support staff, clergy, and volunteers have all found that ASIST complements their existing training and knowledge.
Other people attend simply because they want to be able to help someone in need, in much the same way they might learn CPR. Because the training is comprehensive and doesn't rely on prior qualifications, they can have the same meaningful experience as a professional caregiver.
Ultimately, ASIST is founded on the principle that everyone can make a difference in preventing suicide. The more people in the community who have suicide intervention training, the more likely it is they will be able to identify someone at risk and intervene to keep them safe.