Description
Thank you for all your support! Our event has been officially sold out. Please note tickets are sold exclusively online to ensure the experience of attendees.
Please follow us on Facebook @DealmoonBoston for our next Night Markets in May!
The Dealmoon Boston team is working with Boston ProSound to bring you this authentic Asian Street Food Night Market experience at Pine Manor College in Chestnut Hill!

10 local vendors will be cooking and serving over 20 different kinds of Asian dishes and snacks, including Peking duck, Chinese crepes, Uyghur lamb kebab, bubble tea and more! Vendors include the popular WuEr BBQ, Silk Road Uyghur Cuisine, Ichiban, Gochi, Double Chin, Shaking Crab.

This will be the fourth Asian Street Food Night Market in the Greater Boston Area. Past events in Allston attracted over 1500 people. Attendees will be enjoying a wide range of authentic Asian street food and beverages available for purchase. We are excited to be hosting it in Chestnut Hill as we look forward to meeting you all. Please note that tickets are exclusively sold online. No ticket will be available for purchase on site.

Location:
Pine Manor College
400 Heath St. Chestnut Hill, MA 02467
Time:
Sat. March 31st 8PM-12AM (last entrance at 11:30PM)
Each ticket includes a free Asian beverage on us! The event is outdoor and there are limited parking onsite. Please bring cash accordingly to purchase foods.
Follow us on Facebook to learn more about this event! https://www.facebook.com/DealmoonBoston/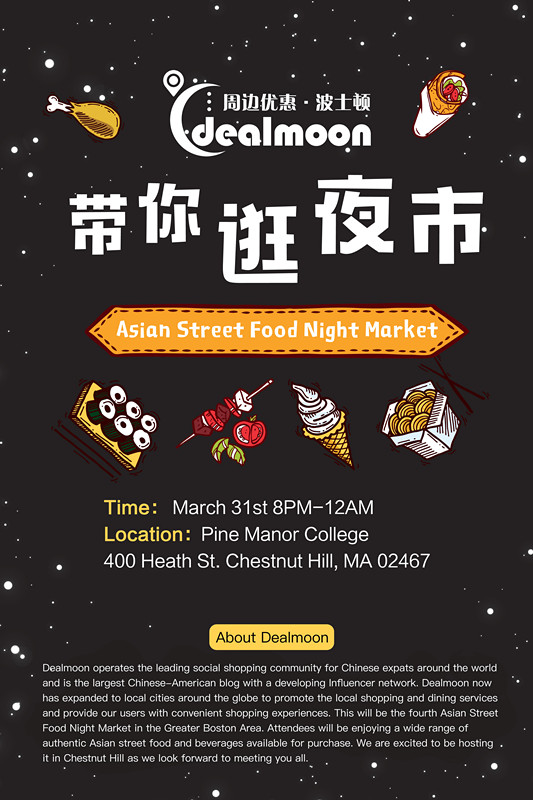 About Us
Dealmoon operates the leading social shopping community for Chinese expats around the world and is the largest Chinese-American blog with a developing Influencer network. Global consumer brands work with Dealmoon to reach the Chinese-language shopper. In 2016 alone, Chinese shoppers engaged with Dealmoon more than one billion times from the U.S., Canada, Australia, Japan, Korea, France, Germany, Italy, and Spain as well as China. Dealmoon now has expanded to local cities around the globe to promote the local shopping and dining services and provide our users with convenient shopping experiences.
中文用户请下载北美省钱快报APP,打开周边优惠进行购票,感谢您的配合!(For Mandarin-users only, please download the Dealmoon APP for purchasing tickets, Thank you!)