ASIAN PODCAST FESTIVAL --- by the Asian American Podcasters Association
Sales Have Ended
Ticket sales have ended
Thank you so much for registering for AAP's Asian Podcast Festival. You'll receive the log-in link shortly before the Festival. - Asian Podcast Festival Team Asian American Podcasters Association info@aapodcasters.org
Sales Have Ended
Ticket sales have ended
Thank you so much for registering for AAP's Asian Podcast Festival. You'll receive the log-in link shortly before the Festival. - Asian Podcast Festival Team Asian American Podcasters Association info@aapodcasters.org
Welcome to AAP's Asian Podcast Festival! Join us to watch AAPI-run shows LIVE!
About this event
Welcome to AAP's Asian Podcast Festival! Join us to watch Asian-run shows LIVE! ===>>>SCROLL DOWN FOR SHOW ART!<<<===
We're celebrating May, a.k.a. AAPI Heritage Month, with a podcast festival of shows created, edited, produced and/or hosted by Asians and Asian Americans.
From the comfort of your own home, you'll be able to dig into your favorite shows -- and be introduced to others -- on Sunday!
C U R R E N T L I N E - U P*:
11:40 AM — Future Hindsight: Host, Mila Atmos. Tagline: "A Civic Engagement Podcast." https://www.futurehindsight.com
12:30 PM — The Power of the Only: Host, Angela Chee. Tagline: "There's power in being the Only. Lessons Learned From Leaders Breaking Barriers, Defying The Odds and Creating Positive Change" https://angelachee.com/podcast/
1:15 PM — Retire There with Gil & Gene: Co-hosts, Gilen and Gene Preudhomme. Tagline: "Chats with retirees who describe life in their adopted city." https://www.retirethere.com/
2:00 PM — Stories with Sapphire: Host, Sapphire Sandalo. Tagline: "Spooky, Supernatural, and Spiritual Stories." http://www.storieswithsapphire.com
2:45 PM — The Filipino American Woman Project: Co-hosts, Jen Amos and Nani Dominguez. Tagline: "Stories and life lessons told by American women of Filipino descent." http://tfawproject.com
4:00 PM — Hacks and Hobbies: Host Junaid Ahmed. Tagline: "Hobbies are for the mind." https://www.hacksandhobbies.com/
5:00 PM to 6:55PM — DINNER BREAK
7:00 PM — NETWORKING
7:15 PM — The AAP Podcast: Co-hosts Andy Wang and Lee Uehara. Tagline: "The AAP Podcast: Covering the industry, events, gear, and more." http://www.aapodcasters.org/podcast/
8:00 PM — #hashtagimpact: Co-hosts: Regina Larko and Carol Li. Tagline: "A Podcast about stuff that matters." https://www.hashtagimpact.com/
8:45 PM — We The Peeps: Co-hosts Ty Fujimura and Clayton Fujimura. Tagline: "The US soccer podcast for any fan." https://wtppod.com
*Times are TBA. Please check back for new additions — better yet, send us an email to be placed on our mailing list: info@aapodcasters.org. Schedule and Show Line-up is subject to change; we will do our best to handle the circumstances which are beyond our control.
COST: $25 or Pay-As-You-Wish. All sales are final, and there are no refunds. All funds go toward supporting the Asian American Podcasters Association, a NYS non-profit organization.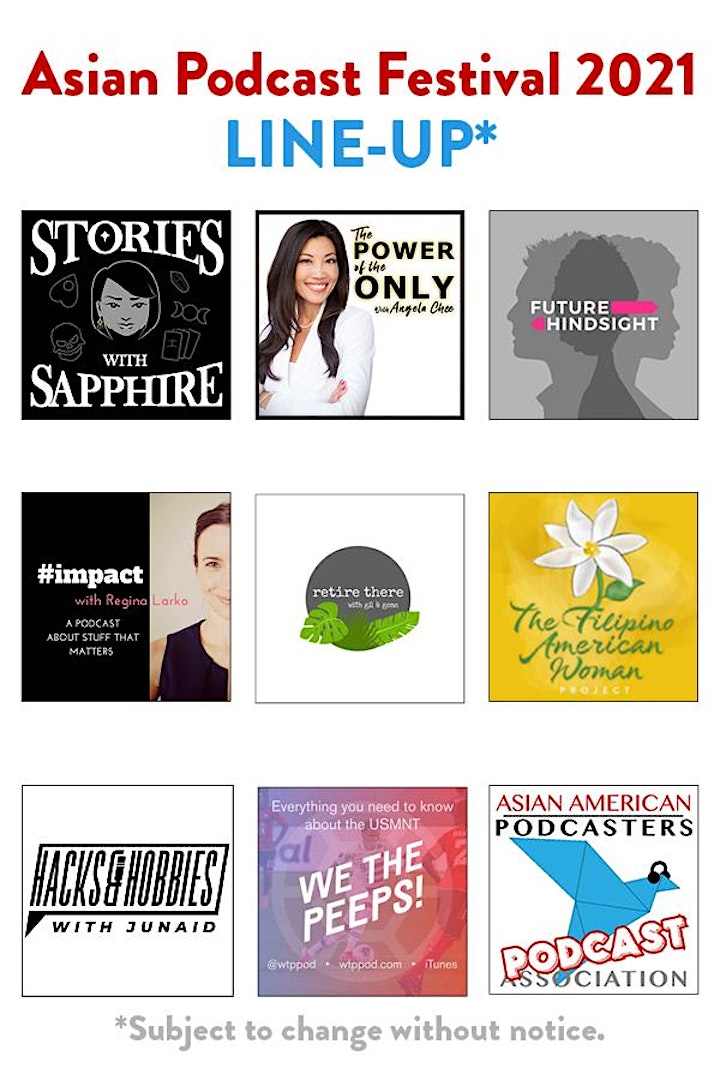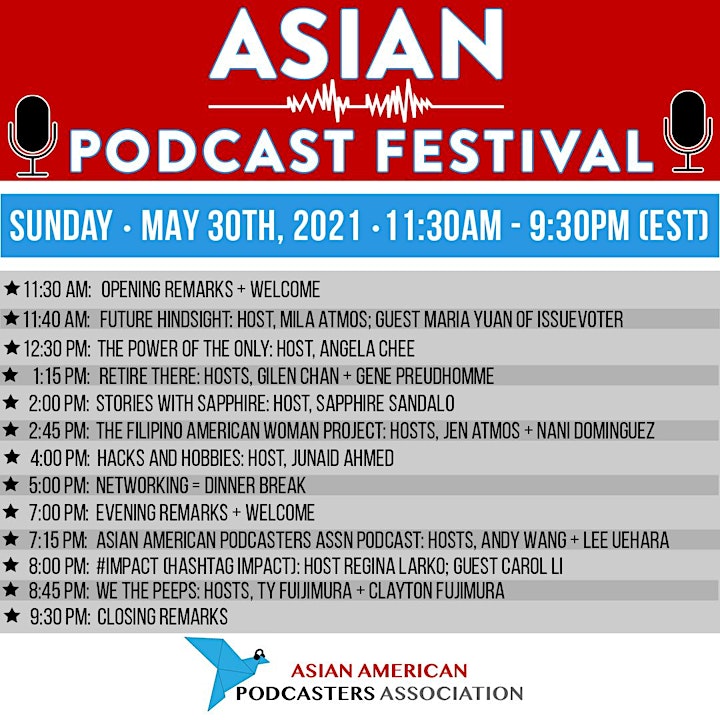 Date and time
Location
Refund policy
Organizer of ASIAN PODCAST FESTIVAL --- by the Asian American Podcasters Association
The Asian American Podcasters Association is a nonprofit and the first-ever Asian American group for podcasters. AAP's mission is to support and strengthen AAPIs who want to podcast. Come join us: http://www.AAPodcasters.org/join/.