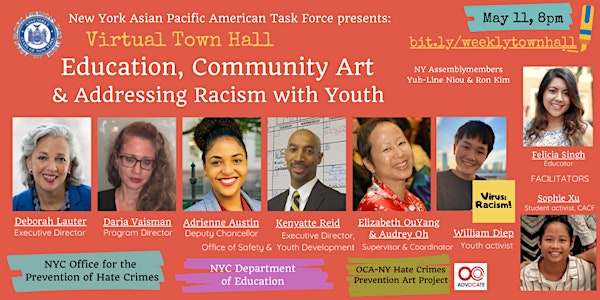 Asian Pacific American Solidarity: Weekly Virtual Town Hall
Description
In a time of crisis and growing anti-Asian violence, we believe in the importance of building solidarity with community groups, and adopting a restorative justice approach to responding to racism.
New York State Assemblymembers Ron Kim and Yuh-Line Niou, and Task Force Executive Director Kai Zhang Cole, are hosting a weekly virtual town hall to check in with community organizations and neighbors in various parts of the city and state, to better understand the experiences of our constituents during this crisis, and to support movement-building towards a state government responsive to those needs.
Zoom Link: https://bit.ly/apasolidarity (Mondays, 8pm)
=====
Town Hall #5:
Education, Community Art, and Addressing Racism with Youth

This fifth virtual town hall, scheduled for Monday, May 11th, at 8 PM, with the Department of Education and the Mayor's Office for the Prevention of Hate Crime -- is a special treat.
We have Elizabeth OuYang, Esq. and Audrey Oh from OCA-NY presenting slides of youth artwork from 14 years of the Hate Crime Prevention Art Project, since 9/11.

We also have teens from Virus:Racism! including William Diep, sharing video memes from the student-led movement they created in their schools, to push back against anti-Asian bullying since the start of Coronavirus.
Our facilitators, Felicia Singh (Educator) and Sophie Xu (11th grade student) will be asking challenging questions about how to address racist violence in the NYC school system, where police presence and metal detectors are dictated by racial disparity.
Continuing to focus on transformative justice and restorative justice, we are grateful to speak again with Deborah Lauter and Daria Vaisman from the Mayor's Office on Hate Crime Prevention about the curriculum they've created to use education as a tool for addressing hate crimes. We are excited to have this conversation with Deputy Chancellor Adrienne Austin and Executive Director Kenyatte Reid from the Office of Safety and Youth Development at the NYC Department of Education.

Assemblymember Ron Kim will talk about his legislation and letter to the Mayor and Department of Education to add Asian American history and addressing anti-Asian racism, and racism against other minorities, to the NY curriculum due to the rising incidence of Covid-19 bullying.
To access the Zoom conference at 8pm: https://bit.ly/APAsolidarity