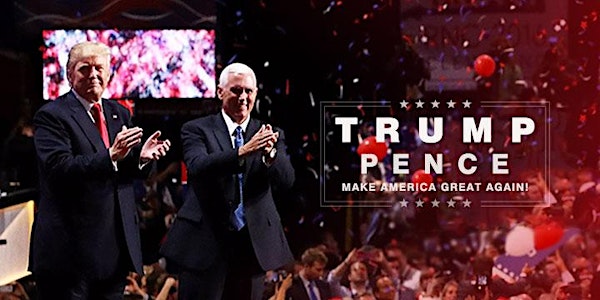 Asian Pacific American Presidential Inaugural Gala 2017
Location
The Mayflower Hotel
1127 Connecticut Avenue NorthWest
Washington, DC 20036
Description
TRUMP-PENCE
ASIAN PACIFIC AMERICAN ADVISORY COMMITTEE PRESIDENTIAL INAUGURAL GALA 2017
Donald J. Trump and Mike Pence prepare to be sworn into their new positions, The Asian Pacific American Advisory Committee and the National Committee of Asian American Republicans will be hosting an Inaugural Gala on Thursday, January 19, 2017 in the Grand Ballroom of the historic Mayflower Hotel in Washington, DC. At this event, we will be honoring Asian Americans and Pacific Islanders who have been nominated to serve in the new Trump Administration.
THIS EVENT IS OPEN TO ALL!
Celebrate with prominent dignitaries and Presidential appointees (Donald J Trump, Mike Pence, Ben Carson, Reince Priebus, Elaine Lan Chao, Nikki Haley are invited)
Network with key Asian American and Pacific Islander community leaders
Network with business elites in the Asian American and Pacific Islander community
Enjoy the performances from Asian Pacific American communities proudly sharing their rich cultures
Magnificent hotel and fine cuisine
Come celebrate in Making America Great Again.
Make your reservations now! Be a part of this historic event.
FYI: Your coat and belongings may be subject to a security search. Proper ID is required. Tickets are non-refundable.
Important Legal Information:
Federal
law requires us to use our best efforts to obtain and report the name, mailing address, occupation and employer for each individual who contributes an aggregate of more than $200 per election.
Contributions to the National Committee of Asian American Republicans are not deductible as charitable contributions for federal income tax purposes. Contributions from corporations, federal contractors, labor unions, foreign nationals and/or national banks are prohibited. Individuals and multicandidate political committees may contribute up to $5,000 per year. Couples may jointly give up to $10,000 per year to the National Committee of Asian American Republicans. If a joint contribution is made, both individuals must be listed as account holders. The Federal Elections Committee requires that donors must be a green card holder or U.S. citizen.