Description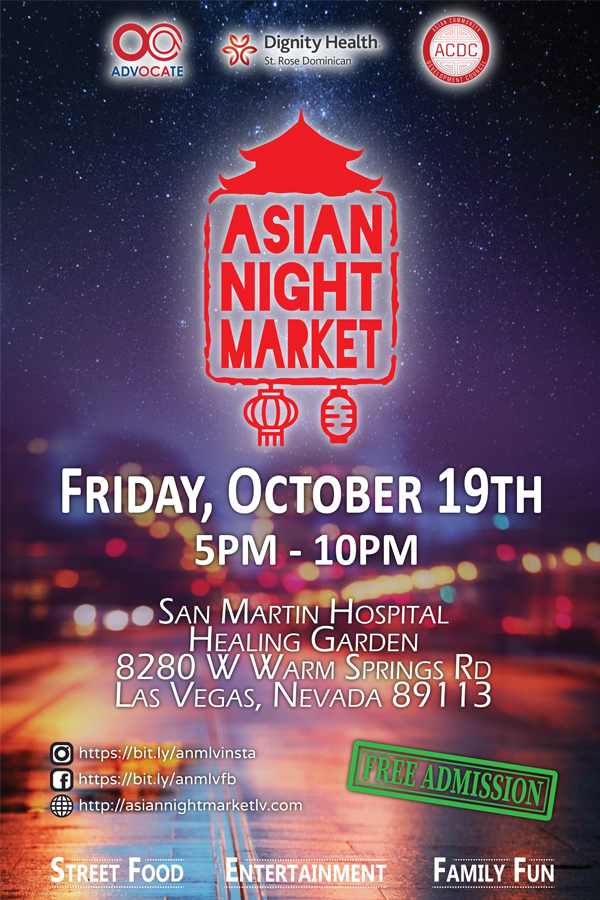 Join the first Asian Night Market hosted by OCA Las Vegas and Asian Community Development Council. Taste the world of Asian cuisine and get connected with the Asian community of Las Vegas!
RSVP to get FREE gift.
What makes Asian Night Market Unique?
The Asian Night Market will provide a unique Asian & Pacific Islander cuisine experience to showcase local Asian & Pacific Islander restaurants and businesses to the local community. The event is free to the public.
About the Organizers
Asian Community Development Council ("ACDC") and the OCA Asian Pacific American Advocates ("OCA Las Vegas") are non-profit 501(c)(3) non-partisan organizations. The mission of ACDC is to improve the general well-being and education of the Asian, Pacific Islander and other ethnic communities in Nevada. The ACDC will promote, foster, champion and advocate for Asian Americans and Pacific Islanders in the greater Nevada community. OCA Las Vegas in turn promotes civic participation, education, and leadership development across the community.
ACDC and OCA Las Vegas created the inaugural Asian Night Market in support of the ACDC youth community programs founded in 2016, and OCA Las Vegas' mentorship program that was founded in 2010. Through these programs, over 100 high school students and college students develop their leadership skills, clarity of their career fields, and build an understanding of the Asian & Pacific Islander community.