Description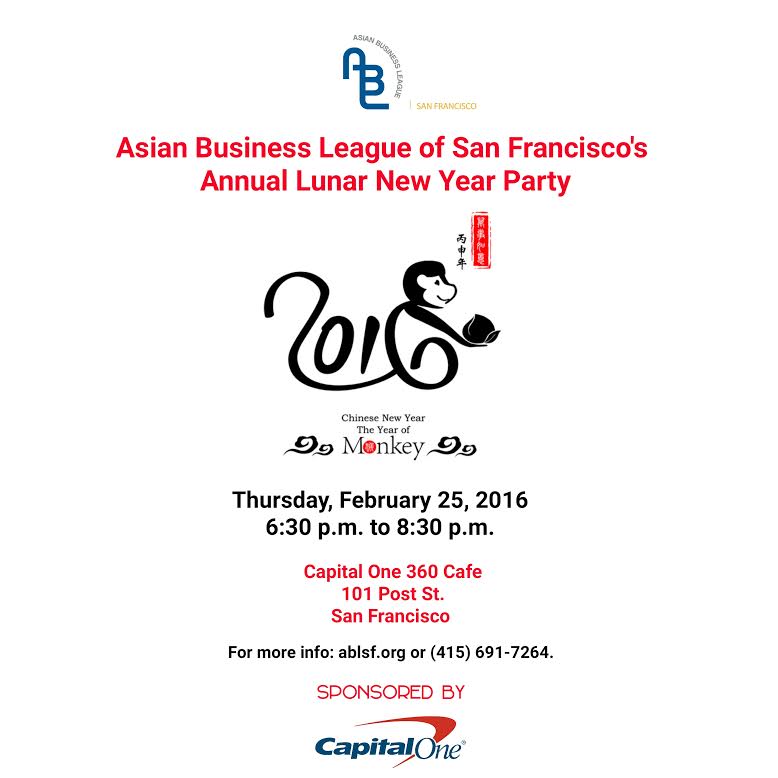 Join the Asian Business League of San Francisco (ABL-SF) in celebrating the Year of the Monkey on Thursday, Feb. 25, 2016 from 6:30 p.m. to 8:30 p.m. at Capital One 360 Cafe located at 101 Post St. in San Francisco. Enjoy complimentary hors d'oeuvres catered by Onigilly and complimentary beverages as Salt and Honey will be bartending the event and pouring wine and beer. Guests will also have an opportunity to get a free astrological reading, courtesy of Ken Hirano and palm reading courtesy of Dr. Thanu Pilllay of palmistry.org.
A big thanks to ABL-SF's Lunar New Year Party event sponsor Capital One.
Community partners for the event include the Asian American Donor Program, Corporate Asian American Employee Network (CAAEN), Chinese Real Estate Association of America, Filipino American Arts Exposition (FAAE) / Pistahan Parade and Festival, Japantown Merchants Association, Korean Center, Korean American Professional Society, Nakayoshi Young Professionals, Nihonmachi Street Fair, Oakland Asian Cultural Center, San Francisco Chamber of Commerce, Taiwanese American Professionals - San Francisco, and Your Filipino Professionals Association.
Become an ABL-SF Member today!
There is a special membership and event admission package deal currently available. For $40, which is the normal rate of an ABL-SF one year membership, you can also receive general admission to this event. Having served over 35 years in the Asian Pacific American community, our membership base is comprised of both Asian Pacific Americans and non-Asian Pacific Americans with a focused interest in furthering leadership skills in all aspects of business. As a member you'll receive discounted pricing to future ABL-SF events. Select at checkout: General Admission and One Year ABL-SF Membership.
*TICKETS MUST BE PURCHASED IN ADVANCE AND WILL NOT BE SOLD AT THE DOOR.
For sponsorship information, contact Angela Pang at info@ablsf.org or (415) 691-7264.
ABL-SF LUNAR NEW YEAR PARTY YEAR OF THE MONKEY SPONSOR

ABL-SF LUNAR NEW YEAR PARTY LANTERN SPONSOR

ABL-SF LUNAR NEW YEAR PARTY RED ENVELOPE SPONSOR