Asian Business Association Business Conference

Tuesday, October 13, 2009 from 2:00 PM to 5:00 PM (PDT)
Event Details
Attend the Business Conference! 
Featuring:
One-on-One Business matchmaking
International Trade/Tourism
Trade show
Networking
Develop business contacts

The following companies have confirmed to participate in the One-on-One matchmaking as a buyer:
AEG
AT&T
California Water Association
Hilton Hotels
Los Angeles World Airports
Metro
Port of Los Angeles
SoCalGas/ SDG&E

Southern California Edison
Verizon
Metropolitan Water District
Northrop Grumman
Toyota Motor Sales, U.S.A., Inc. 
Warner Bros. Entertainment, Inc.
Turner Construction
Burns & McDonnell (full service engineering, architecture, construction, environmental and consulting solutions firm). - just confirmed
GMC Engineering Inc.- just confirmed

W A Rasic Construction Company Inc. -just confirmed
Please Note:  People attending the Awards Luncheon will be giving priotiry for the business matchmaking session.
Join us at our Business Conference! Attend for FREE and sign up for our One-on-One matchmaking session to meet with primes and buyers from major corporations and public agencies!
 

Please see below for a list of commodities and services that some of the buyers are looking for:

PG&E
Seeking the following categories:
Utility Construction – Gas & Electric
Patch Paving
Civil Construction
Solar
Engineers with nuclear experience
Gas Leak Repair
NO IT, please

Toyota Motor Sales, U.S.A., Inc.
Seeking the following categories, but not limited to:
Advertising
Automotive training programs (sales and product training)
Construction and building maintenance services
Exhibit displays and services
Facility management and services
Graphic arts, design and printing
Incentive/recognition programs
Information Technology:
- Consulting
- Hardware/software
- Maintenance
- Telecom equipment
Management consulting
Market research
Marketing services
Moving/relocation services
Office furniture and equipment:
- Office supplies
- Packaging supplies
- Promotional merchandise
- Security services
Temporary employment services
Training:
- Associate
- Dealer

Metropolitan Water District
Seeking the following categories:
Construction
Professional Services
Procurement
Department of General Services
Would like to meet with small business owners to discuss:
The prospect of Doing Business with the State of California agencies/departments
The benefits and importance of getting certified with the California Department of General Services as a small business or Disabled Veteran Business Enterprise
How to find out about contracting opportunities with State agencies/departments
How to register with the State's new eProcurement system
How to market their business to the various State agencies/departments

Port of Los Angeles
Seeking the following categories:
Small Construction Business Owners
Engineering and Project Management Firms
Environmental (Green) Technology Firms
Information Technology Services and Products
Construction Materials and Supplies Vendors

Burns & McDonnell
Seeking the following categories:
High-voltage Electrical Contractors
Civil / Structural Engineering Firms
Material Management Firms

California Water Association
Seeking the following categories:
Fleet vendors
Water meters
Construction
Fleet maintenance & repairs
Meter testing & repair
Pipeline Construction
Landscaping Contractors
Electricians
Safety Equipment
Traffic Control Equipment
Fleet Maintenance & Repair
Pipeline Contractors
Water Haulers
Well and Tank  Rehab/Maintenance
Pump and Motor Repair
Janitorial Services
Florist
Drug Testing
General Maintenance (plumbing, lighting, electrical, etc.)
Warner Bros. Entertainment
seeking the following categories:
Commercial Print
Creative Agency (one that has worked with a studio)
Trailers , One Sheets & Posters
Publicity
Office Movers (Bonded)
Commissary Janitorial Service
Valet Parking Company   
Tree Trimming Services   
Power Sweeping Company   
Window Washing Company   
Construction   


Verizon
Seeking the following categories:
Wireless Cell Site Equipment Maintenance
Janitorial & Landscaping Services
Telecommunications Fiber Construction & Installation
AT&T
Seeking the following categories:

CAT 3 cable, batteries for Uverse cabinets, transport and installation of batteries (Tier 2)
Portfolio Sales: Collection agencies for directory
IT applications and software project management
IT leasing/finance
Desktop/monitor/peripheral value added services
IT consultants
Court reports, transcription services, legal video services
Marketing – Tier 2 opportunities for staffing companies
Mobility - Tier 2 opportunities for staff companies
Repair, packaging, distribution of wireless handsets
Tier 2 opportunities for our Civil Turfing Vendors in wireless network
Outside plant construction & engineering, distribution type services
Brokerage services, real estate appraisers, property management and landscaping
National transportation truck forwarders
Distance learning provides: videographers/filmmakers

For inquiries, please log on to www.aba-la.org or contact the ABA office at (213) 628-1222.
Date:  Tuesday, October 13, 2009
Location:  Pasadena Convention Center
Time:  11:00 am   Reception
          11:30 am   Awards Luncheon, Celebrating ABA Thirty-third year
            2:00 pm   Business Conference (attend for FREE)
Organizer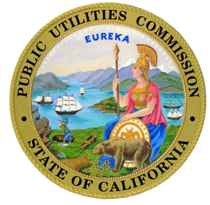 California Public Utilities Commission
The Asian Business Association represents Asian American business owners and creates business opportunities for its members & their diverse communities.
www.aba-la.org