Asian American Women in Tech Webinar Series
About this Event

For the past five years, the Asian American Business Development Center has convened multi-cultural business professionals from all levels –C-suite to young professionals – to tackle topics that are meaningful not just for the mission of diversity and inclusion in the workplace but for engaging and empowering the next generation of leaders.
While the percentage of women in the general U.S. labor force has climbed to 46% over the past decades, it is still significantly lower in the technology sector. The tech world has always been and continues to be a man's world, with some of the underlying reasons including a lack of support and female mentors for young women in tech, gender inequality in STEM jobs, and insufficient hands-on experience for women in STEM subjects.
The Asian American Women in Tech Webinar Series aims to showcase Asian American women in STEM disciplines or industries who can be role models to empower and inspire other younger Asian American women involved in STEM to step out and step up to leadership roles.
At the AAWT Webinar Series, the tech field's impact makers, influential leaders, rising stars and individual contributors will gather to deeply explore and share their insights in STEM disciplines, discuss how Asian American women in STEM can be supported, and identify ways to remove barriers for leadership development for Asian American women in STEM.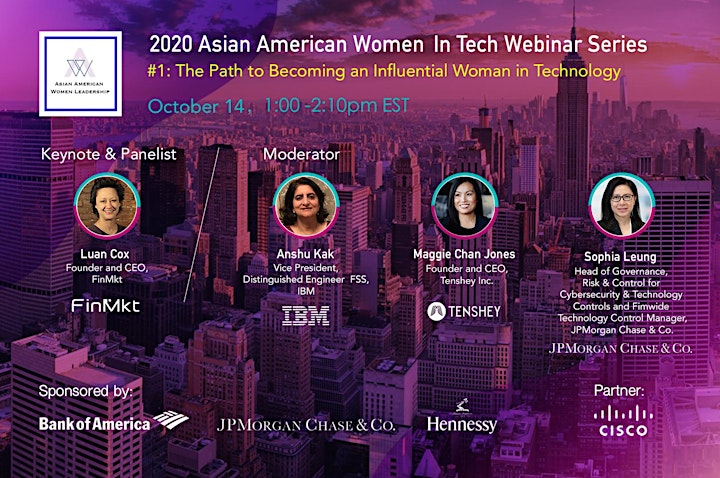 ● Webinar 1 (October 14, 1:00 pm-2:10pm): The Path to Becoming an Influential Woman in Technology
This webinar session brings together female executives and other impact makers in technology to share insightful thoughts and experiences as they lead game changing businesses that make the world a better place. There is no better time for female leaders to play crucial roles in redefining the future by building a work culture that embraces, encourages, and grooms women to become future leaders.
This session aims to showcase Asian American women leaders in STEM disciplines or industries. By celebrating female tech leaders, it will aim to encourage more young women to pursue their interests and careers in tech, and in return increase the diversity of the hiring pool.
For more information about the panel, please visit our event page.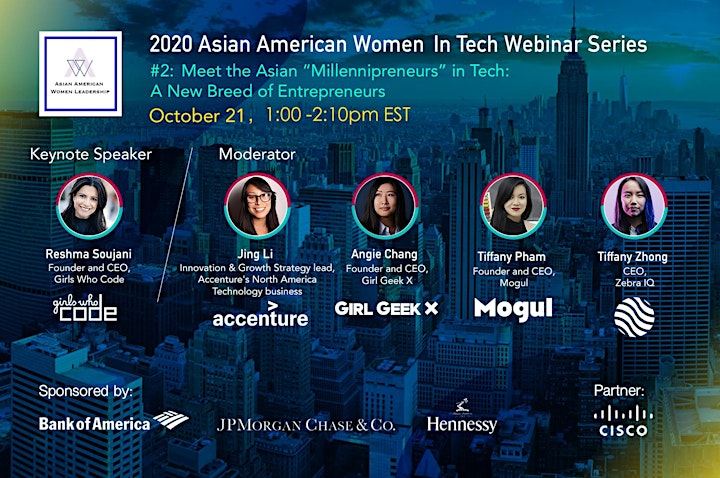 ● Webinar 2 (October 21, 1:00pm-2:10pm): Meet the Asian "Millennipreneurs" in Tech: A New Breed of Entrepreneurs
The millennial generation is shaping the modern workforce. As the new breed of entrepreneurs, Millennipreneurs are described as those in the millennial generation who are active entrepreneurs.
According to the BNP Paribas Global Entrepreneur Report 2016, millennials value entrepreneurship and startups significantly more than generations past. Over 62% of millennials have considered starting their own business, with 72% feeling that startups and entrepreneurs are a necessary economic force for creating jobs and driving innovation.(BNP Paribas Global entrepreneurs Report 2016)
In the second series of the AAWT Webinar Series, a panel of women millennipreneurs will talk about their journeys in becoming successful young entrepreneurs and key challenges that young entrepreneurs are grappling with. Panelists will reflect on how to develop strong business practices to process and track the necessary information from the perspective of the millennial generation.
For more information about the panel, please visit our event page.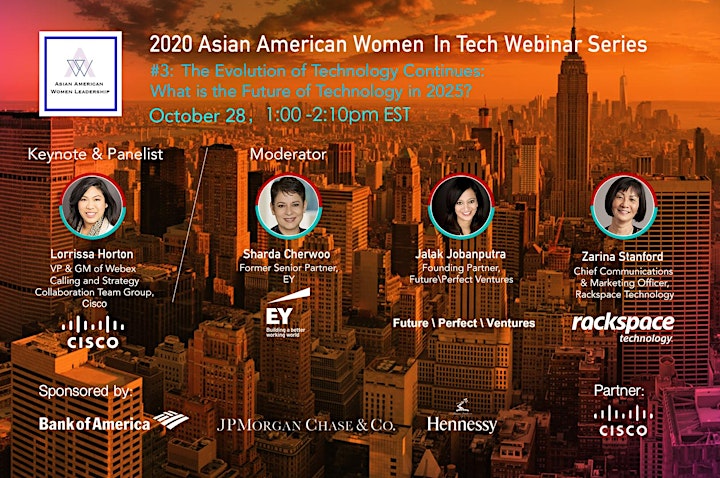 ● Webinar 3 (October 28, 1:00pm-2:10pm): The Evolution of Technology Continues: What is the Future of Technology in 2025?
New technologies are being created at lightning speed. The tsunami of innovations is creating a steep learning curve and those who surf ahead of this wave will be the ones who succeed. Technology and market disruptors are forcing companies to adapt quickly to remain competitive. Trailblazers from the technology industry will discuss the evolution of technology in the next 5 years, and share ideas and thoughts on turning emerging trends into innovation and growth opportunities.
For more information about the panel, please visit our event page.