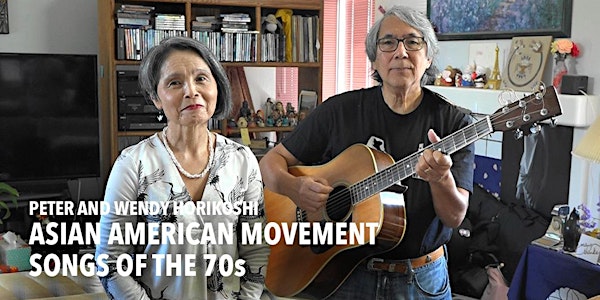 Asian American Movement Songs with Peter and Wendy Horikoshi
Peter and Wendy Horikoshi perform music from the Asian American movement of the 1970's to the present.
About this event
Peter Horikoshi is a founding member of the Asian American "movement" group Yokohama, California, that released a record album in 1977 (re-released in 2016 as a CD). The group wrote and sang songs about the Asian American community and about Asian American experiences. Peter was also involved with the Asian Studies (Now Asian American and Asian Diaspora Studies) Department at UC Berkeley and graduated with a BA in Asian Studies. He was one of many co-founders of the East Bay Japanese for Action (EBJA), a community organization that assisted Japanese and Japanese American seniors starting in the 1970's. EBJA changed their name to Japanese American Services of the East Bay and is now J-Sei.
He and Wendy Horikoshi are founding members of the group Hot Cha, who performed in the 1980's at various fundraisers for Asian American community organizations in the San Francisco Bay Area. They will be accompanied by special guests and together will share music from the Asian American movement from the 1970's to the present.