In It Together: How Minority Small Businesses, Corporations and Employees Can Rebuild Communities
About this Event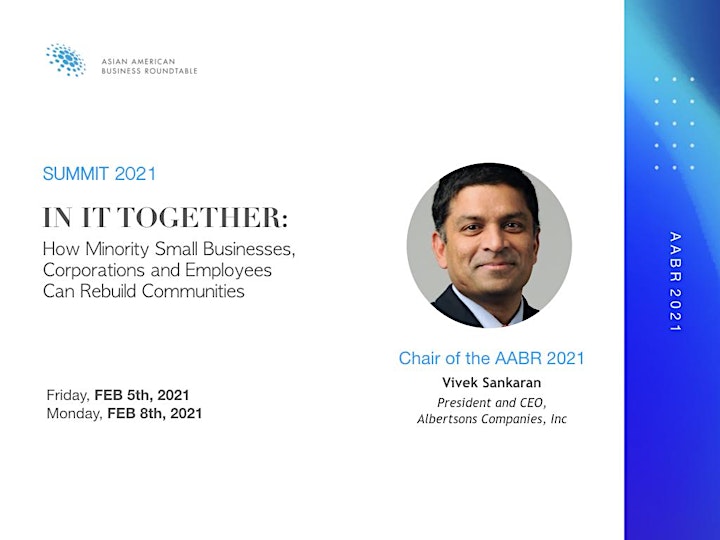 The pandemic is not over yet but the toll it has already taken on health, social and economic aspects of our communities is immense, and New Majority communities continue to suffer the most. Deliberate economic recovery efforts are necessary. At the same time, a recent survey noted that 71% of employees place more trust in companies to respond to [systemic] racial injustice than in the government (36%). Business leaders must join forces in rebuilding diverse communities, advancing social justice and creating opportunities for others to join in helping the cause.
Now in its sixth year, the 2021 Asian American Business Roundtable is embracing a different format, but one thing remains the same – we focus on advancing the Asian American Business Development Center's (AABDC's) mission that has always been centered around advocacy and economic empowerment of the Asian American community and New Majority communities overall.
During the pandemic, AABDC rose above difficult conditions to partner with organizations looking to make immediate meaningful impact while working to create sustainable change for diverse communities. We devote the upcoming AABR to highlighting best examples of corporate philanthropy, innovative approaches to aiding small business recovery, and true leadership on eradicating social inequities. It is our hope that these examples not only provide blueprints for such initiatives but will also further the momentum to stimulate business recovery, fight inequalities and ensure community revitalization.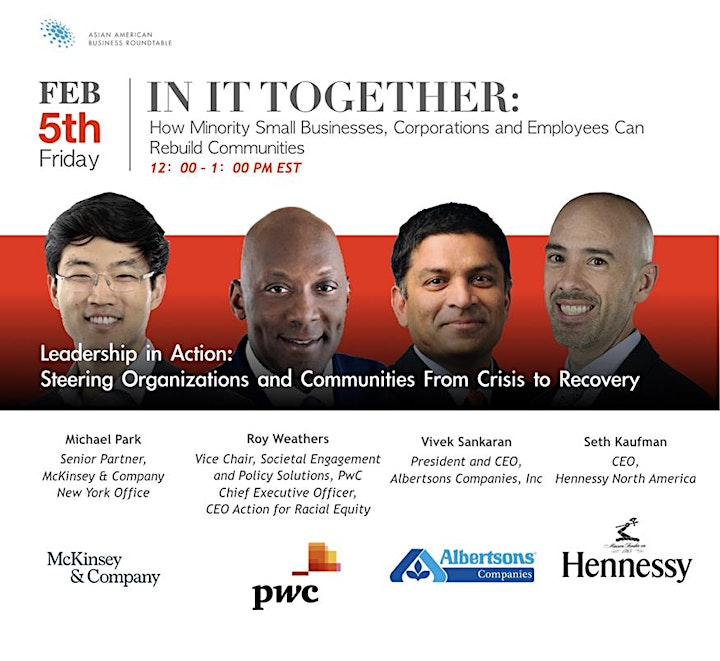 Leadership in Action: Steering Organizations and Communities From Crisis to Recovery
12:00 PM – 1:00 PM EST, Friday, February 5, 2021
Business leaders have an unprecedented opportunity to demonstrate their ability to steer their workforces and enterprises from crisis to recovery. With the recognition that companies have a responsibility to promote diversity and inclusion, what have some global brands done to promote economic equality for hard-hit minority communities, respond to consumers and employees, and how are they positioning for a recovery?
Our guests will highlight examples of corporate initiatives that are poised to make meaningful impact for New Majority communities.
Our Speakers:
Michael D. Park, Senior Partner, McKinsey & Company's New York Office
Vivek Sankaran, President and CEO, Albertsons Companies, Inc
Seth Kaufman, CEO, Hennessy North America
Roy Weathers, PwC Vice Chair, Societal Engagement and Policy Solutions, Chief Executive Officer of CEO Action for Racial Equity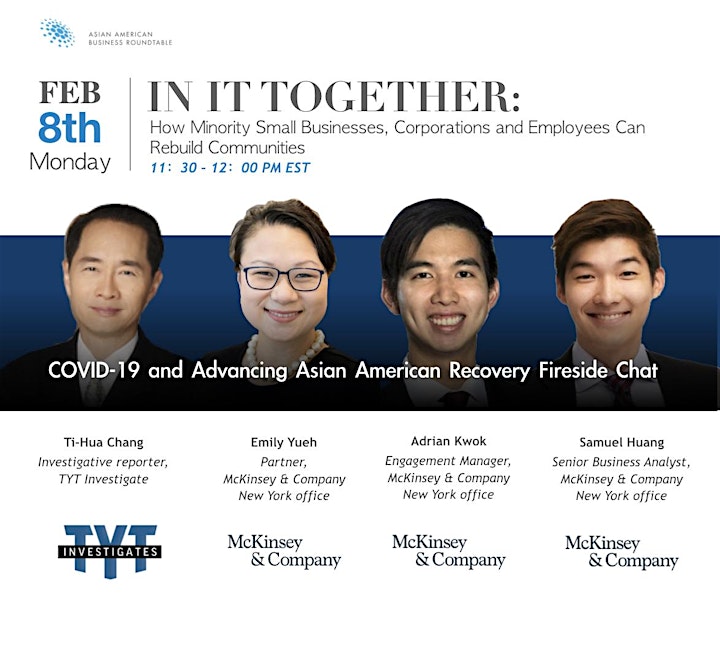 COVID-19 and Advancing Asian American Recovery Fireside Chat
11:30 AM– 12:00 PM EST, Monday, February 8, 2021
COVID-19 has majorly impacted all segments of US society. And according to McKinsey's study issued last year, "Asian Americans have suffered disproportionately across a number of metrics. Certain parts of the community have been at higher risk of infection and death, and rising xenophobia has worsened mental health. Asian American unemployment rates increased by more than 450 percent from February to June 2020, revealing a greater rate of increase than that of other racial groups. ... Without targeted policy and business action—Asian American communities may recover more slowly." The authors of this important study will share their recommendations for how stakeholders in all sectors can ensure equity for Asian American communities during COVID-19 recovery while supporting all groups experiencing disproportionate impact from the crisis.
Our Speakers:
Ti-Hua Chang, Investigative reporter, TYT Investigate
Emily Yueh, Partner, McKinsey & Company New York office
Adrian Kwok, Engagement Manager, McKinsey & Company New York office
Samuel Huang, Senior Business Analyst, McKinsey & Company New York office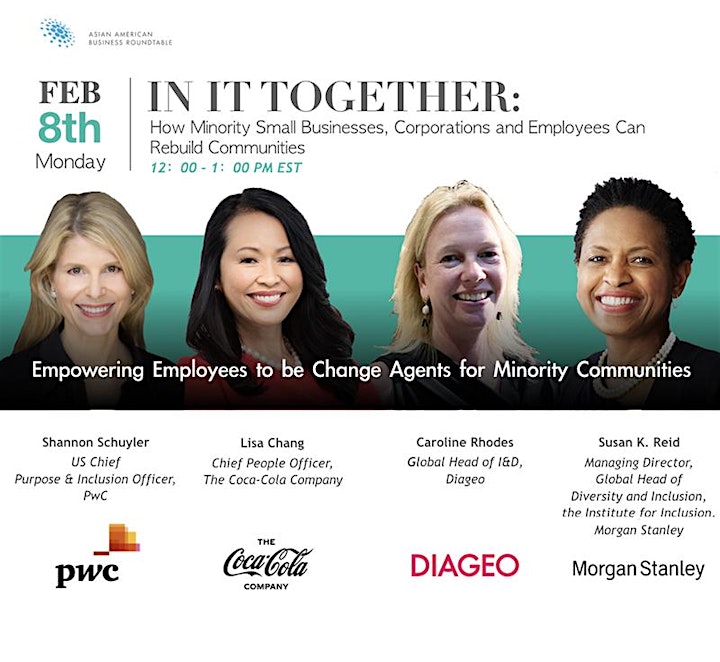 Empowering Employees to be Change Agents for Minority Communities
12:00 PM – 1:00 PM EST, Monday, February 8, 2021
Younger generations in the workforce don't just want to sit by and wait for their companies to fix society problems – they want to be active advocates of solutions. Increasingly, employers are judged by their contributions to society, and businesses that disregard this expectation will lose out in the war for talent.
Our guests will speak to the dual benefits of corporate philanthropic programs – while tremendously helpful to their intended recipients (diverse communities and small businesses), they are also important tools for improving employee engagement, given the current work climate that is ridden with high anxiety, search for purpose and disillusionment in the social support system.
Our Speakers:
Shannon Schuyler, US Chief Purpose & Inclusion Officer, PwC
Lisa Chang, Chief People Officer,
The Coca-Cola Company
Caroline Rhodes, Global Head of I&D, Diageo
Susan K. Reid, Managing Director, Global Head of Diversity and Inclusion, the Institute for Inclusion, Morgan Stanley
For more information, please contact us at: info@aabdc.com