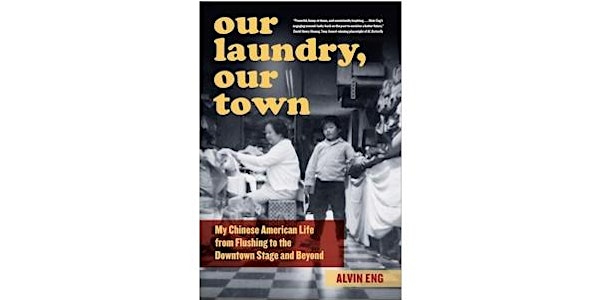 Asian American Authors Book Talk: Alvin Eng and Our Laundry, Our Town
Please join us for an in-person and virtual conversation with Alvin Eng about his memoir, Our Laundry, Our Town.
When and where
Location
New York Public Library - Chatham Square Branch 33 East Broadway New York, NY 10002
About this event
This book talk will take place in person at Chatham Square Library AND online. Please join Alvin Eng and our staff as we discuss his memoir, Our Laundry, Our Town: My Chinese American Life from Flushing to the Downtown Stage and Beyond, which is available at NYPL.
Our Laundry, Our Town is a memoir that decodes and processes the fractured urban oracle bones of Alvin Eng's upbringing in Flushing, Queens, in the 1970s. At the time, his family was one of the few immigrant Chinese families in a far-flung neighborhood in New York City. His parents had an arranged marriage and ran a Chinese hand laundry. From behind the counter of his parents' laundry and within the confines of a household that was rooted in a different century and culture, he sought to reconcile this insular home life with the turbulent yet inspiring street life that was all around them—from the faux martial arts of TV's Kung Fu to the burgeoning underground punk rock scene.
In the 1970s, NYC, like most of the world, was in the throes of regenerating itself in the wake of major social and cultural changes resulting from the counterculture and civil rights movements. And by the 1980s, Flushing had become NYC's second Chinatown. But Eng remained one of the neighborhood's few Chinese citizens who did not speak fluent Chinese. Finding his way in the downtown theater and performance world of Manhattan, he discovered the under-chronicled Chinese influence on Thornton Wilder's foundational Americana drama, Our Town. This discovery became the unlikely catalyst for a psyche-healing pilgrimage to Hong Kong and Guangzhou, China—his ancestral home in southern China—that led to writing and performing his successful autobiographical monologue, The Last Emperor of Flushing. Learning to tell his own story on stages around the world was what proudly made him whole.
As cities, classrooms, cultures, and communities the world over continue to re-examine the parameters of diversity, equity, and inclusion, Our Laundry, Our Town will reverberate with a broad readership.
Alvin Eng is a native NYC playwright, performer, acoustic punk rock raconteur, and educator. His plays and performances have been seen Off-Broadway, throughout the U.S., as well as in Paris, Hong Kong, and Guangzhou, China (book description and biographical note adapted from the author's webpage).
For in-person attendance, register on this Eventbrite page. Each person attending must register individually. There is no ticketing, but a registrants list will be kept at the door. Seating is limited to 45 people.
 OR
To attend virtually, register on this event page on the NYPL website.
This program is being presented by Chatham Square Library of NYPL in cooperation with the Asian American Writers' Workshop (AAWW).
Sign up for NYPL Connect to get updates from NYPL and information about our digital resources and services.
Our Laundry, Our Town will be available for purchase during the book talk at Chatham Square.