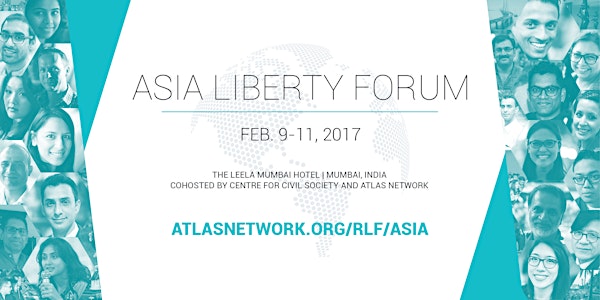 Date and time
February 9, 2017 · 5:30pm - February 11, 2017 · 11pm IST
Location
The Leela Mumbai Andheri Kurla Road, Sahar Maharashtra Mumbai, MH 400059 India
Refund Policy
Contact the organizer to request a refund.
Description
Atlas Network is partnering with think tanks across the globe to bring regional liberty forums, allowing friends of liberty from across one continent or region to come together for professional development training, competitions for funding, strategy discussions, networking, and much more.
Atlas Network is delighted to again partner with the Centre for Civil Society to host the 2017 Asia Liberty Forum, a public celebration aimed at advancing liberty and free markets in Asia, by bringing together 250 champions of freedom: intellectuals, think tank leaders, policy makers, business leaders, and change makers who will present their work and views on various facets of modern Asia. Champions of free people and free markets from across Asia and the world are invited to Mumbai for two days of leadership development, sharing of best practices, and discussion of the policy battles that lie ahead.
The conference will include keynote addresses and breakout sessions, superior networking opportunities, and friendly competition among think tanks. The forum provides a unique opportunity to interact closely with distinguished experts across various fields; some who are tackling Asia's unique development challenges, and others who bring international experience and perspectives towards charting our future course. The Asia Liberty Forum Gala Dinner on the evening of the 11th will feature Atlas Network's announcement of 2017 Asia Liberty Award winner. To apply, click here.
Other highlights include:
Speed Networking, designed to help attendees expand their contacts
Elevator Pitch Competition, where participants will present their 60-second pitch with the chance to win a prize
For more information, contact Srijan Bandyopadhyay at srijan@ccs.in or +91-995-367-2130
For queries from within the United States, contact Sherry Romello at sherry.romello@atlasnetwork.org or 703-402-9080
Brief schedule of events:
Thursday, February 9
5:30 pm: Registration opens
5:30 - 7 pm: Hospitality Reception
Friday, February 10
8:30 am: Registration opens
9 - 10 am: Speed Networking
10 am - 6 pm: Day 1 of conference
730 pm - 10pm: Dinner
Saturday, February 11
9 am - 6 pm: Day 2 of conference
8 pm - 11pm: Asia Liberty Forum Gala Dinner featuring announcement of 2017 Asia Liberty Award winner
About the organizer
Atlas Network increases opportunity and prosperity by strengthening a global network of independent civil society organizations that promote individual freedom and remove barriers to human flourishing.