Asia Business Conference 2020: Asia in Action
About this Event
Welcome to the Asia Business Conference 2019
Since 1994, the student-run Asia Business Conference at Harvard Business School has hosted dynamic discussions on Asia by thought leaders in a range of disciplines and fields. Today, it is the largest student-run conference on Asia in North America, drawing hundreds of attendees from not only the Harvard and greater Boston community, but also from all over the world.
Asia In Action: Chances, Chances, Challenges
We have chosen this year's theme, "Chances . Changes . Challenges", recognizing that Asia is increasingly influencing the world's trends in multiple sectors, and it is no doubt that Asia has been the force of change for the global economy. How can Asia seize new opportunities, adapt, and manage various challenges as it continues to disrupt the rest of the world?
Attendees will have the opportunity to explore this theme and expand their professional network through the keynote speeches, panel discussions and networking session over lunch. We believe that the conference will leave you with meaningful insights and connections on Asia.
It is our hope that our conference will prove to be an insightful survey of the economic, social, and political implications of a rapidly changing world and Asia.
Confirmed Keynote Speakers
1. Mike Peng, Partner of IDEO and Co-founder of IDEO Tokyo
2. Marita Abraham, Chief Marketing Officer of Zilingo
3. Cesar Jung-Harada, Director of Maker Bay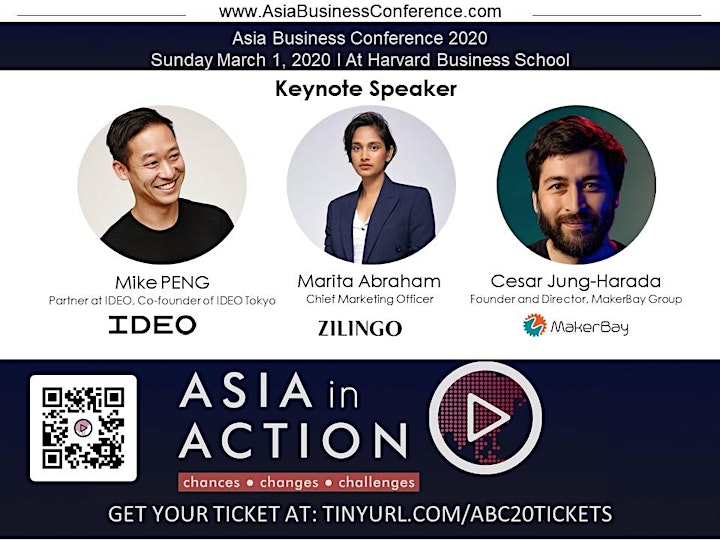 More information at Website l Facebook l LinkedIn
FAQs
How can I contact the organizer with any questions?
Should you have any questions regarding the 2020 Asia Business Conference, please feel free to reach out to our co-chairs listing on http://www.asiabusinessconference.com/contact-us.html.
Quick reminder for the conference
Recommended attire: Business Casual or Business Formal
Bring tickets (e-ticket/print)
Follow & post Facebook/IG hashtag: #AsiaBusinessConference2020
NO refund