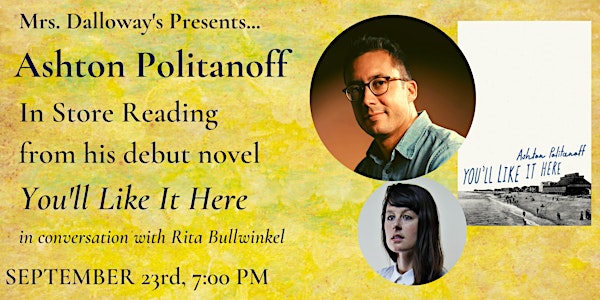 Ashton Politanoff In Store Author Appearance and Reading
Join us Friday Sep 23rd when author Ashton Politanoff comes to read from his new novel You'll Like It Here, along with Rita Bullwinkel
When and where
Location
Mrs Dalloway's 2904 College Avenue Berkeley, CA 94705
About this event
Author Ashton Politanoff comes to Mrs. Dalloway's to read excerpts from and discuss his debut novel You'll Like It Here.He will be joined in discussion by author Rita Bullwinkel.
You'll Like it Here is a haunting bricolage, divided into three parts, that excavates the forgotten history of Redondo Beach in the early 1900's through old news clippings, advertisements, recipes and other ephemera that speak to the ills of male stoicism, industrialization and capitalism, and environmental displacement. Ashton used digital archives from the Redondo Reflex and other city adjacent newspapers as the basis for his surrealist account, masterfully tracing this larger shift away from coastal maritime repose in the wake of the Spanish Flu, the Great Depression, and World War II through momentary fragments that feel as real and palpable as they do transient, mythological, and strangely reminiscent of our current times.
Formally, You'll Like it Here works in conversation with Michael Ondaatje's The Collected Works of Billy the Kid, Maggie Nelson's Bluets, Amina Cain's Indelicacy, and Kathryn Scanlan's Aug 9 Fog. The novel also embraces a multi-register, journalistic storytelling that questions the tenuous line between objectivity and subjectivity in documenting the unreliability of history—both personal and collective—brilliantly balancing voids of loss, absence, and disappearance with moments of natural transcendence and miraculous phenomena.
ASHTON POLITANOFF lives in Redondo Beach, California and teaches at Cypress College. Politanoff is a frequent contributor to the literary annual NOON.
RITA BULLWINKEL is the author of Headshot (Viking 2023) and Belly Up, which garnered both a 2022 Whiting Award and the 2018 Believer Book Award. Bullwinkel's writing has been published in Tin House, The White Review, Conjunctions, BOMB, Vice, NOON, and Guernica. She is a recipient of grants and fellowships from MacDowell, Brown University, Vanderbilt University, Hawthornden Castle, and The Helene Wurlitzer Foundation. Her work has been translated into Italian, Greek and Dutch. Both her fiction and translation have been nominated for Pushcart Prizes. She is an Editor at Large for McSweeney's, a Contributing Editor for NOON, and the creator of Oral Florist. She lives in San Francisco and teaches at the California College of the Arts.
Due to ongoing COVID concerns and customer safety considerations, we will be limiting the number of attendees at our in-store events. To that end, please note the following and thank you for your understanding.
THIS EVENT is free but pre-registration is required. Registration ends at 4:50 pm on September 23RD.
BECAUSE SEATING is limited, please register only if you plan to attend.
DUE TO SPACE limitations, we may not be able to accommodate every person at an event, so early registration is encouraged.
MASKS are required for attendees during the event.
WE ARE NOT ABLE to accommodate any walk-ins that evening.
WE ASK that attendees arrive between 6:30 and 6:45pm for the event.