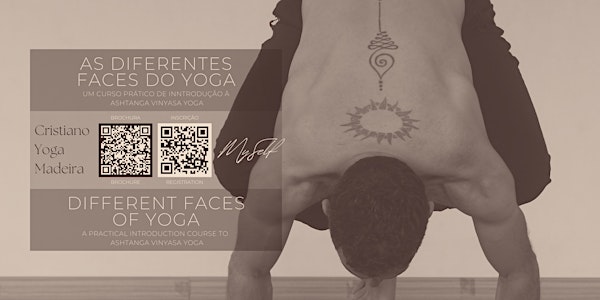 Ashtanga Vinyasa Yoga Practical Introduction Course
This mini-course aims to cover different aspects that align to form a complete Yoga practice, independent of your current level
By Cristiano Yoga Madeira @ MySelf Clinic
Date and time
Monday, May 29 · 7:30 - 8:30pm WEST
Location
MySelf | Integrative Health Center Alameda Danilo Gouveia RC C 9000-160 Funchal Portugal
About this event
Sobre o Curso
Este mini-curso tem como objetivo abranger diversos aspectos e tópicos que se alinham para formar uma prática completa de Yoga. É aberto a todos, desde iniciantes até praticantes ou professores experientes.
Será dividido em 12 aulas, com duração de uma hora cada (exceto a última aula, que durará 1h30), apresentadas semanalmente com um tema diferente, com foco principalmente na compreensão e preparação do corpo para uma melhor fluidez nas séries e na prática do Ashtanga Yoga, à medida que as posturas e os Vinyasas são gradualmente revelados.
Toda a informação está disponível aqui.
Programa
1ª aula (8 de Maio) - Equilíbrio & Gravidade
2ª aula (15 de Maio) - Aberturas de Ombros
3ª aula (22 de Maio) - Aberturas de Ancas
4ª aula (29 de Maio) - Torções
5ª aula (5 de Junho) - Aberturas de Peito
6ª aula (12 de Junho) - Prana & Movimento-Respiração.
7ª aula ( 19 de Junho) - Transições e Equilíbrio de Braços
8ª aula(26 de Junho) - Preparação para Invertidas
9ª aula (3 de Julho) - Ayurveda & Ashtanga
10ª aula(10 de Julho) - Retroflexões e Anteflexões
11ª aula (17 de Julho) - Tristana & os 8 Pilares do Ashtanga Yoga
12ª aula (24 de Julho) - 1as Séries de Ashtanga: Removendo Obstáculos
Onde?
O curso vai ser realizado na MySelf Integrative Health Center (Morada: Edifício Gemini I, Alameda Danilo Gouveia, RC C, 9000-645 Funchal).
Quando?
De 8 de Maio a 24 de Julho. As aulas serão presenciais e práticas, realizadas todas as segundas-feiras, das 19h30 às 20h30 (com exceção da última aula, cuja duração será de 1h30).
Preço
O curso pode ser comprado na integra (110€), por mês (40€) ou aulas individuais (15€). No caso de optar pelas aulas individuais OU pelo mês, informe-nos por e-mail da(s) aula(s) OU mês(es) que pretende estar presente.
---
About the Course
This mini-course aims to cover different aspects and subjects that align to form a complete yoga practice. It is open to everybody, from beginners to long term practitioners or teachers.
It will be divided in 12 classes, each one hour long (except the last class), presented weekly with a different theme, focusing mainly on what's behind the Ashtanga Yoga series and practice, but in a perspective of both explaining and at the same time preparing the body to be able to flow better when the series and the full range of Asanas and Vinyasa is gradually revealed.
All information is available here.
Program
1st class (May 8th) - Balance & Gravity
2nd class (May 15th) - Shoulder Openers
3rd class (May 22nd) - Hip Openers
4th class (May 29th) - Tortions
5th class (June 5th) - Chest Openers
6th class (June 12th) - Prana and Movement-Breathing
7th class (June 19th) - Transitions & Arm Balances
8th class (June 26th) - Preparation to Handstands
9th class (July 3rd) - Ayurveda & Ashtanga
10th class (July 10th) - Forward Bends and Backbends
11th class (July 17th) - Tristana & the 8 Pillars of Ashtanga Yoga
12th class (July 24th) - Ashtanga 1st Series: removing obstacles
Where?
The course will be held at MySelf Integrative Health Center (Address: Gemini I Building, Alameda Danilo Gouveia, RC C, 9000-645 Funchal).
When?
From May 8th to July 24th. The classes will be in person and practical, held every Monday from 7:30 pm to 8:30 pm (except for the last class, which will last 1h30).
Price
The course can be purchased in full (€110), per month (€40), or individual classes (€15). If you opt for individual classes OR moth, please inform us by email which class(es) OR month you wish to attend.