Event Information
Refund policy
Contact the organizer to request a refund.
Eventbrite's fee is nonrefundable.
Take part in a full day of Ashtanga Yoga practice and in-depth discussion with a team of thought leaders and respected teachers.
About this event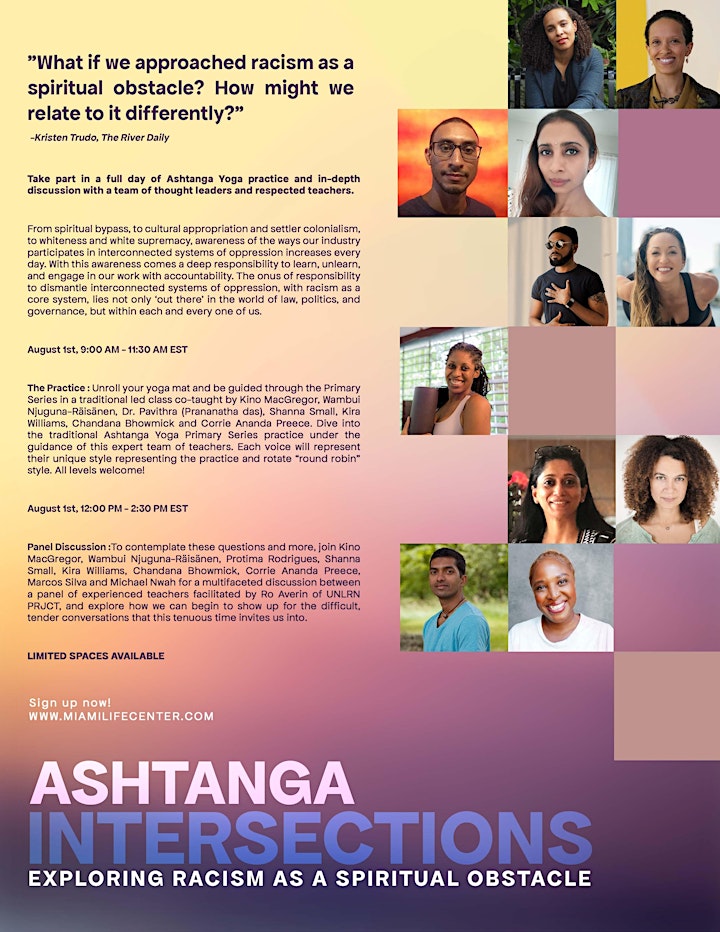 Increasingly concerned with the ways the macro patterns of society are mirrored in the micro world of modern yoga, Wambui Njuguna-Räisänen expressed this concern to Kino MacGregor. This offering is a result of that initial conversation. May it be of benefit to all beings, without exception.
"What if we approached racism as a spiritual obstacle? How might we relate to it differently?"
Kristen Trudo, The River Daily
Take part in a full day of Ashtanga Yoga practice and in-depth discussion with a team of thought leaders and respected teachers.
From spiritual bypass, to cultural appropriation and settler colonialism, to whiteness and white supremacy, awareness of the ways our industry participates in interconnected systems of oppression increases every day. With this awareness comes a deep responsibility to learn, unlearn, and engage in our work with accountability. The onus of responsibility to dismantle interconnected systems of oppression, with racism as a core system, lies not only 'out there' in the world of law, politics, and governance, but within each and every one of us.
In an industry that offers so many tools that can be used to mindfully address injustice, yet frequently avoids facing and discussing these issues directly, we are challenged to ask ourselves difficult questions. Can we, for example, continue to think we'll attain moksha, or liberation in this lifetime, if we continue to engage in these practices without understanding how our approach is bound up in whiteness, white supremacy, and settler colonialism? As Kristen Trudo has posed, what happens when we approach racism as a spiritual obstacle? How might we relate to it differently?
Schedule
August 1st, 9:00 AM - 11:30 AM EST The Practice
Unroll your yoga mat and be guided through the Primary Series in a traditional led class co-taught by Kino MacGregor, Wambui Njuguna-Räisänen, Ajay Tokas, Shanna Small, Kira Williams, Chandana Bhowmick and Corrie Ananda Preece. Dive into the traditional Ashtanga Yoga Primary Series practice under the guidance of this expert team of teachers. Each voice will represent their unique style representing the practice and rotate "round robin" style. All levels welcome!
August 1st, 12:00 PM - 2:30 PM EST Panel Discussion
To contemplate these questions and more, join Kino MacGregor, Wambui Njuguna-Räisänen, Protima Rodrigues, Shanna Small, Kira Williams, Chandana Bhowmick, Corrie Ananda Preece, Marcos Silva and Michael Nwah for a multifaceted discussion between a panel of experienced teachers facilitated by Ro Averin of UNLRN PRJCT, and explore how we can begin to show up for the difficult, tender conversations that this tenuous time invites us into.
Pricing
Single class $50
Full day $65
*Scholarships for BIPOC available.
Bios Teachers and Speakers
Chandana Bhowmick started her exploration of Yoga in the year 2000. At first, it was all about asanas, until 2009, when she decided to quit her corporate job in banking and insurance, to delve deeper into her yoga studies. She completed her Yoga and Philosophy Course from The Yoga Institute, Mumbai, in 2010. It was in 2011 that she found her calling - Ashtanga Yoga.
One class in a festival in Rishikesh was all it took to convince her to book her tickets for Mysore, to study with her Guruji Shri R Sharath Jois. She has been studying under his guidance ever since, and received her Level II Authorization in 2016. She now runs her own Mysore program in Pune, and regularly travels and teaches Mysore rooms and workshops in other Shalas.
Anti-racist, Inclusionist, Truthseeker. Corrie is an Authorised Level II, Ashtanga Yoga practitioner/teacher who has been practising for over 20 years.
Walking the line between tradition and modernity, Corrie teaches in an accessible, inclusive manner, maintaining the integrity of the practise whilst adapting to meet the individual. Her approach is precise, mindful, exploratory where necessary, and always from the heart.
Corrie Ananda Preece
web: www.corrieananda.co.uk
Kino MacGregor is a Miami native who is happiest on the beach with a fresh coconut and a poet at heart who always stops to smell the flowers.
She is the founder of Omstars—the world's first yoga TV network. With over 1 million followers on Instagram and over 750,000 subscribers on YouTube and Facebook, Kino's message of spiritual strength reaches people all over the world. Sought after as an expert in yoga worldwide, is an international yoga teacher, inspirational speaker, author of four books, producer of countless yoga videos, writer, vlogger, world traveler, co-founder of Miami Life Center.
Marcos Silva is currently Associate Professor at the Federal University of Pernambuco, Brazil. His research interests include the philosophy of logic, philosophy of language and Wittgenstein's philosophy.
Marcos regularly practices Yoga since 2015 and is deeply grateful for the pervasive and deep benefits of this ancient tradition in his life. He established a daily practice of the Ashtanga Vinyasa Yoga's system in Oct 2017. Currently, he humbly studies the third series of Ashtanga with Lu Andrade. In the season 2019-2020, he had the great honor to study in Mysore, India, for two months with Guruji Sharath Jois, the holder of the Ashtanga lineage. In 2019, he founded @yoganafederal, a social project that offers ashtanga yoga for socially vulnerable people in Recife, Brazil.
Michael Nwah is a marketing & corporate communications professional, a meditation & yoga teacher who lives in Lagos, Nigeria. Michael is also a pan-Africanist, he has traveled the African continent experiencing the different cultures, traditions and people across 16 African countries while sharing the practice of yoga.
He is one of the foremost individuals that helped popularised the practice of yoga and mindfulness in Nigeria, and today as a wellness creative he is the brain behind projects like The Yoga Spot @theyogaspot.ng (a yoga studio in Lagos), Meditate Africa @meditate.africa (a space for meditation by people of African descent for people of African descent). Michael's practice focuses on decolonizing wellness, inclusivity, accessibility, and the elevation of the collective well being and consciousness of people of African descent.
Dr. Pavithra (Prananatha das), Yoga Teacher/Yoga therapist, holds a Master's Degree in Yoga therapy from Mangalore University and Ph.d in Yoga philosophy from University of Mysore. In addition, he has a Diploma degree from All India Nature Cure Federation, Delhi. He is also trained under Shri Sharath Jois in renowned traditional Ashtanga yoga school, Mysore for 6 years.
He hails from South Karnataka in India. Dr.Pavithra has been practicing and teaching Yoga from the past 15 years. He can teach, either dynamic, fitness or therapy oriented practices of yoga as per individual's need. He has cured many people from various health issues through holistic approach of Yoga therapy and lifestyle. Presently, he is travelling and sharing his experiences in many yoga schools and studios. He has taught yoga in China, Thailand, Finland, and Russia, Vietnam and Indonesia as well as several places in India. He serves as a Consultant for Yoga in IDVM-India, ISKCON.
He is working on setting up his own Yoga Shala and Nature Cure Clinic at 'Sahyadri Goloka Dham' located in Hebri, Udupi district, Karnataka, South India. In the same location, he successfully developed "Sauravana" or Solar forest, a herbal forest based on Ayurveda and astrology, a powerful and holistic place to heal health issues.
Protima Rodrigues is the founder of True Bay India - India's first homegrown Ashtanga Yoga Workshop and Retreat Organiser, bringing top International Ashtanga yoga teachers to India, since January 2019.
Protima creates awareness as a yoga practitioner, on mental health, social justice, inclusivity, equality and diversity and believes that yoga is for all, devoid of any barriers.
Protima quit her corporate career as a VP in Private Equity after 15 years in banking & finance, to start True Bay India in 2018.
True Bay is a solo POC woman-owned small business, based in Mumbai, India.
Website: www.truebayindia.com
Instagram/FB: @truebayindia
Ro Averin (she/they) is an equity and social justice consultant and educator who centres mindfulness and intersectionality as methodologies for creating sustainable social, racial, and environmental change.
Through UNLRN PRJCT, Ro pulls from her background in academia, tech, non-profit organizations, and the wellness industry to build remote and in-person partnerships based on transparency and mindful accountability. Ro consults and develops strategic planning and educational resources for a wide range of leaders, organizations, community groups, and individuals ready to incorporate equitable, just, anti-racist, and anti-oppressive praxis into the fabric of their work.
With their roots in Canada/Turtle Island, Ro now calls Northern Norway/Sápmi home. Outside of work with UNLRN PRJCT, she can generally be found in nature, writing and editing in a variety of mediums, on a yoga mat teaching or practicing, organizing art and wellness retreats like Hearing Home, or gardening and foraging on the land she loves so deeply, and making whatever she can of the bounty to distribute amongst her loved ones.
Shanna Small is a writer and Yoga teacher who speaks to the intersectionality of Yoga and social justice. She has practiced Ashtanga Yoga and studied the Yoga Sutras since 2001. She has studied in Ashtanga in Mysore with Sharath Jois. Shanna studied Sanskrit, the Yoga Sutras and the Hatha Yoga Pradipika with Laksmish in Mysore, India.
Shanna's finds joy in making the Ashtanga practice accessible for all. She studied with Amber Karnes and Dianne Bondy and is Yoga For All certified. She is a regular contributor for Yoga International, OmStars and the Ashtanga Dispatch. She teaches diversity and inclusivity, Yoga Sutras as well as accessibility trainings and workshops. She is a founding member of Yoga For Recovery Foundation, a non-profit that helps those recovering from addiction, trauma and systemic oppression. Shanna is also certified in the Trauma Conscious Yoga Method.
Shanna is a graduate of Georgia State University and holds a bachelor's in business with a concentration in marketing. Before becoming a full time yoga teacher, Shanna was a recruiter and ad account executive.
For information on workshops, please e-mail shanna@ashtangayogaproject.com.
Shakira Williams Bouwer, Level 1 Authorised Ashtanga Teacher
Sadhana Yoga, Ashtanga Yoga Jamaica
Shakira first discovered yoga in 1999, while looking for a way to find deep peace and relaxation with her busy work, study and fitness schedules. In her journey of almost twenty years, she studied a number of different forms of yoga asana practice including Vinyasa Flow, Iyengar and Anusara yoga before finding the Ashtanga Vinyasa yoga method. A daily practitioner in this method, she believes in the transformative and healing power of yoga both on and off the mat and that the practice and benefits of yoga practice should be available to all, regardless of appearance, body type, ethnicity, creed or spiritual belief. In 2014, she made her third trip to Mysore, India to continue to study with R. Sharath Jois, the grandson of Shri K Pattabhi Jois and director of the K Pattabhi Jois Ashtanga Yoga Institute and was given his blessing to teach the Primary Series of Ashtanga Yoga. She continues to make extended study trips to the source of Ashtanga to deepen her understanding of this transformative method. She has also assisted her root teachers Kino MacGregor and Tim Feldmann in further intensives, taught at the Downtown Nassau Yoga Festival in the Bahamas and at Land Yoga in Harlem, New York, in continuing to deepen her knowledge of practical instruction and application of Ashtanga Vinyasa yoga.
Her teaching style is Traditional Mysore-Style and the traditional Counted Guided Ashtanga yoga as well as a fun and challenging Ashtanga-based Flow called Form, Focus, Flow, influenced by the powerful principles of joyful awareness, safe and healthy alignment, and loving action from other schools of asana practice. Above all, she is passionate about sharing yoga as a healing, sustainable and spiritual practice for life. Since 2020, she has moved much of her teaching to the Zoom online platform and is passionately curious about how yoga intersects with the important human rights issues of the day. She teaches Studio, Private and Online classes out of Kingston, Jamaica.
Website: http://www.ashtangajamaica.com ; Blog: www.thisismysadhana.wordpress.com
Wambui Njuguna-Räisänen (she/her) is a Kenyan-American based in Finland, passionate about making wellness through yoga and meditation seamlessly engaged in equity and justice so that more people of the global majority can live well and thrive.
Wambui is deeply inspired by spiritual teachers and communities that seek ways to apply the insights from our various practices and teachings to situations of social, racial, political, environmental and economic suffering and injustice.
She would like to see wellness spaces engage more in social justice + collective change and activist spaces learn to breathe deeply and practice sustainable self-care in the midst of dismantling systemic oppression. This is her definition of community care. To learn more about Wambui and her offerings, visit wambuinjuguna.com and @wellnesswithwambui (IG & Patreon).
Date and time
Location
Refund policy
Contact the organizer to request a refund.
Eventbrite's fee is nonrefundable.
Organizer of Ashtanga Intersections: Exploring Racism as a Spiritual Obstacle
Miami Life Center is dedicated to the study of Yoga in the lineage of our teachers Pattabhi Jois and his grandson R.Sharath Jois. At MLC you have access to yoga classes, workshops and intensives from early morning to late evening. We practice in a traditional setting where yoga postures, breathing, alignment, meditation and philosophy are taught and cultivated. Our well educated body of teachers all travel to India yearly for continued studies and we believe you will find their knowledge unparalleled. Join both beginner and advanced practitioners alike in our friendly and light hearted yoga shala.