ASHRAE SoCal & SWE-LA March 3rd Meeting

Tuesday, March 3, 2015 from 5:30 PM to 8:30 PM (PST)
Event Details
ASHRAE Southern California & SWE - Los Angeles
March 3rd Meeting
---
Theme: Women in Engineering Night 
5:30: Social Hour 
6:40: Announcements & Dinner 
7:00: Main Program
8:45: Raffle & Adjourn 
Location: The Proud Bird 11022 Aviation Blvd Los Angeles, CA  90045
Dinner Choices: Chicken Chardonnay, Atlantic Baked Salmon, Pasta Primavera
---
 Presentation Topics:
ASHRAE bEQ Building Label
&
Retention of Women in the Building Construction Industry
---
 ASHRAE bEQ 
This presentation will discuss the purpose and advantages of building labeling. An in depth explanation of the ASHRAE Building Energy Quotient Program will be provided. The presentation will cover what distinguishes this program from other labeling programs as well as the process used to meet the requirements to qualify a building for labeling.
Retention of Women Engineers in the Building Construction Industry
As the building design and construction industry looks at the composition of the future workforce it is clear that the demographics of today will need to change to meet future demand for employees. It is projected that this change will include increasing the number of women employed in the building design and construction industry. We have seen an increase in young women enrolling in STEM disciplines at the university level and an improvement in the numbers attaining college degrees but we have not seen the same increase in the percent of women employed in the STEM workforce. This inconsistency can be attributed to poor retention of women once they enter the profession. This presentation will address why women leave the industry and what can be done to help increase retention. This is an important topic for our industry as a whole as well as for employers trying to minimize turn over and maximize productivity.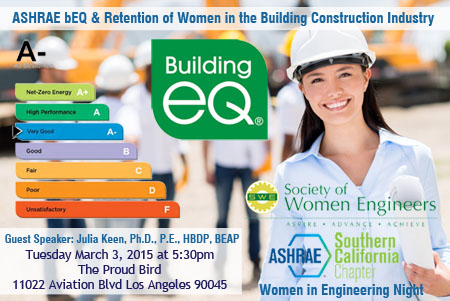 ---
 Speaker Biography:
---
Julia Keen, Ph.D., P.E., HBDP, BEAP
Owner
Keen Designs, PA
Associate Professor
Bob and Betty Tointon Engineering Chair
Architectural Engineering and Construction Science
Kansas State University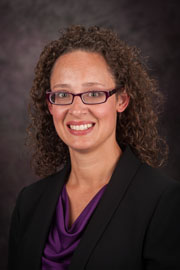 Julia Keen, Ph.D., P.E., HBDP, BEAP is an Associate Professor of Architectural Engineering and Construction Science at Kansas State University holding the Bob and Betty Tointon Engineering endowed chair. She also owns her own consulting company, Keen Designs, PA. Her specific areas of interest include HVAC, energy codes, high performance design, education, and the advancement of women in engineering.

Julia's experience includes working as an owner's representative in facility planning and project implementation, acting as Mechanical/Electrical Project Engineer designing mechanical and electrical systems, and performing as a specialty consultant in building design as well as professional development. Julia is a Licensed Professional Engineer and holds two ASHRAE Certifications - High-Performance Building Design Professional (HBDP) and Building Energy Audit Professional (BEAP).
Julia became involved in ASHRAE as a student member of the Kansas State University student branch. She has acted as the faculty advisor to this branch since 2003 during which time the chapter has routinely attended the ASHRAE winter meetings and finished first in the ASHRAE Design Competition five times. Through the years, Julia has held several chapter positions including President and CRC Chair of the Cedar Valley Chapter. She has also been involved in many societal level committees including: Publications, Conferences and Expositions, and Certification as well as chaired TC6.1. In 2013, Julia was elected as a Director-at-Large to the ASHRAE Board of Directors. Through this position she serves as ExO to both the Refrigeration and Standards Committees and is a voting member of Tech Council. Her service to the organization was recognized in 2010 when she was given the Distinguished Service Award. Julia continues to promote her passion of HVAC education through the HVAC Essentials Course she co-developed and delivers for ASHRAE around the world.
When & Where

The Proud Bird
11022 Aviation Blvd
Los Angeles, CA 90045


Tuesday, March 3, 2015 from 5:30 PM to 8:30 PM (PST)
Add to my calendar