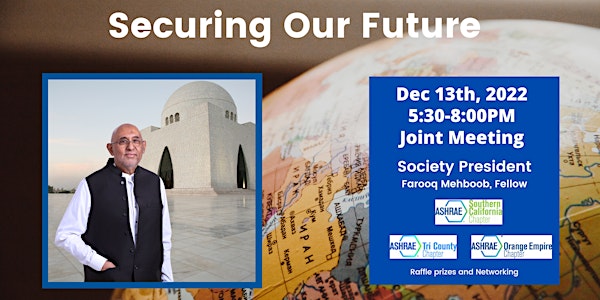 ASHRAE December Joint Meeting-Society President
December Joint Meeting with 2022-2023 Society President
When and where
Location
Quiet Cannon Conference & Event Center 901 Via San Clemente Montebello, CA 90640
Refund Policy
Contact the organizer to request a refund.
Eventbrite's fee is nonrefundable.
About this event
Join the members of ASHRAE Southern California, Orange Empire, and Tri-County for an evening of dinner, prizes, and fun!
Our keynote speaker is the Society ASHRAE President Farooq Mehboob, who will be presenting his vision for ASHRAE and the future of the HVAC industry.
5:30 pm: Check-in/Social hour/Table Top
6:30 pm: Announcements and Dinner buffet
6:30: Chapter announcements
7 pm: Farooq Mehboob, P.E. 2022-2023 Society President Main presentation
8 pm: Raffle and wrap-up
Cash bar
Menu choice:
Peppercorn Filet Mignon: Seasoned & Marinated Filet Mignon Topped & Crusted with our Peppercorn Sauce
Chipotle Salmon: Baked Salmon Topped with our Signature Light Chipotle Cream
Spinach Pasta: With Feta Cheese, Tomatoes & Peppers in a creamy Sundried Tomato Sauce
Presidential Address: Securing Our Future
Presentation abstract: We are experiencing a time of accelerated change and an era of unpredictability that is unlikely to go away any time soon. Our success in navigating these changes will be based on problem solving, creativity, innovation, flexibility, and a willingness to adapt. "Securing Our Future" examines how the crucial personal and professional events of the past can help us leverage Relationships, Knowledge and Change as the formula for making an impact and embracing our diverse world.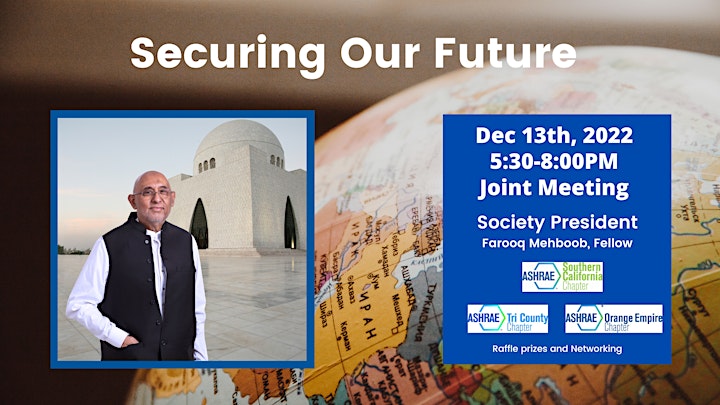 Presidential Address: Securing our Future
Presentation abstract: Who are the people that invested in you, encouraged you and helped you grow? Who will you give back to and invest in? "Personal Growth. Global Impact. Feed the Roots." explores ASHRAE's expansive root system from the Society's founding to its extraordinary global growth and impact to the built environment. Three sets of roots were established to help members grow – member-to-member connections, grassroots chapters and regions, and technology. The presentation examines how ASHRAE cultivates these deep, widespread, and strong roots to collectively provide global benefits today as well as for future generations.
Bio:
Farooq Mehboob, Fellow Life Member ASHRAE, is ASHRAE's President for the 2022-23 term. Mehboob previously served on the ASHRAE Board of Directors as president-elect, treasurer, vice president and region-at-large director and regional chair.
For his time and commitment to ASHRAE and the HVAC&R industry, Mehboob is the recipient of the Distinguished Service Award and the Regional Award of Merit. As director and regional chair, Mehboob worked hard to improve communications and became a true advocate for ASHRAE's globalization efforts. In 2016, Mehboob was a part of ASHRAE's first international board meeting in Bangkok.
Mehboob's theme for the 2022-23 ASHRAE Society Year is "Securing Our Future."
"A meaningful and powerful future will not come to us…we must collectively seek it…create it…SECURE it. And that's what we'll do because that's who we are. It's in our ASHRAE DNA. We need to be diverse, equitable and inclusive to see, understand and take advantage of what is changing, for our success. The two key prerequisites for ASHRAE's diversity are: transparency and participation."
In addition to his time served on the Board of Directors, Mehboob served as chair of the Appointments Roadmap Committee, chair of the Publishing and Education Council, coordinating officer of the Conferences and Exposition Committee, coordinating officer of the Historical Committee, coordinating officer of the Training and Education Committee and coordinating officer of the Development Committee, among other participation.
"It's imperative that we continue to hunger for, and seek information about our market, our changing world and our technological advances. Breaking down silos and embracing change will infuse a new dynamism in our society at all levels, bringing to our members new knowledge, technology and tools in a timely fashion helping them to successfully navigate the rapidly changing world. Leveraging relationships, knowledge and change is the formula to SECURING OUR FUTURE."
Additionally, Mehboob served as president of the ASHRAE Pakistan Chapter, Sub Regional Chair (SRC), Regional Vice Chair (RVC) and Chair of CTT Committee at Society and twice as Assistant Regional Chair (ARC).
He helped establish four ASHRAE Chapters in Pakistan. During his tenure new ASHRAE Chapters were established in Bangladesh, South Africa, Egypt, Pakistan and the UK.
In addition to his contributions to ASHRAE, Mehboob is owner of S. Mehboob & Company, located in Karachi, Pakistan, and has been active in the design of more than 600 landmark projects across Pakistan and the Middle East. He is responsible for introducing many new technologies to the Pakistan market as well as industry standards, with respect to the design, supervision and installation of HVACR Systems. Notably, these include VAV Systems, integrated BMS, thermal storage, solar central hot water systems, district heating and cooling, chilled beams and UFAD.
He was a founding member of the Pakistan HVACR Society where he served on the executive council and as its president for two terms from 2005-2009. He has received several awards from the HVACR Society, including a Lifetime Achievement Award, and has published numerous papers and articles to his credit. He currently serves as Chairman of the Advisory Council of the Pakistan HVACR Society.
Mehboob is a 1965 graduate of the East Pakistan University of Engineering Dhaka, Bangladesh with a Bachelor of Science in Mechanical Engineering.