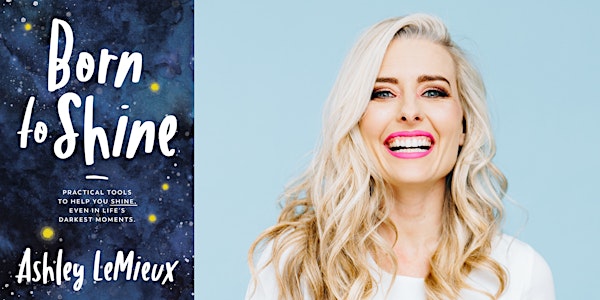 Ashley LeMieux BORN TO SHINE 10/16
When and where
Location
Brookline Booksmith 279 Harvard Street Brookline, MA 02446
Description
Tickets may be purchased online before October 16th at 4pm, or at the door.
Born to Shine is a story of loss, resilience, and the life-changing lessons found in the darkest seasons of life.
When Ashley LeMieux and her husband lost their children in an adoption battle, it sent her into a tailspin that, ultimately, taught Ashley how to soar. Most people live with constant fears, burdens, and pains. Born to Shine shares Ashley's message of hope for women brave enough to say that everything is not okay. The message is also for those who want the courage to believe they are not done yet—the unique message that acknowledges the overwhelming truth that even when life is in ruins, people can still shine. Born to Shine tells the LeMieux's story in installments with alternating chapters and practical applications in between. It shares stories, lessons, and practical tools to help women shine despite the darkness, to press forward one day at a time even when there is no end in sight, and to turn their most painful moments into their greatest teachers and signposts to true, deep, unassailable joy.

Event Guidelines:

All ticket purchases are non-returnable and non-refundable, even in the case of event cancellation due to inclement weather.


Present your printed or on-screen Eventbrite ticket for entry

.
In the case of a sold out event, the store cannot guarantee seating for attendees with seated tickets arriving to the reading after 6:55pm.

The reading will take place downstairs at the Brookline Booksmith at 7

pm.



The event reading space is not wheelchair-accessible; we sincerely apologize for the inconvenience. For all other disability accommodations, please email events@brooklinebooksmith.com


For further information, please visit our website at www.brooklinebooksmith.com or call (617) 566-6660
Further details will be sent via email to attendees.