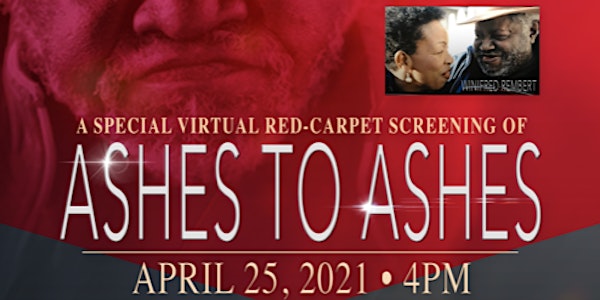 Ashes to Ashes
Join us for a discussion with Dr. Shirley Jackson Whitaker and a special tribute to Winfred Rembert, who passed away on March 31st, 2021.
About this event
The Springfield Alumnae Chapter of Delta Sigma Theta Sorority, Inc. invites you to join us, Celebrate our Resilience, Commemorate our History and Pay Homage to the many who were terrorized and paid the ultimate price for their Blackness, with their lives.
On Sunday, April 25, 2021 at 4PM for a Special Virtual Red-Carpet Screening of Ashes to Ashes, an endearing portrait of Winfred Rembert, a master leather-work artist who survived an attempted lynching in 1967. This moving short documentary showcases the incredible friendship he has forged with Dr. Shirley Jackson Whitaker, as she creates and establishes an interactive art exhibit to memorialize the more than 4,000 African Americans who were lynched during the Jim Crow era. Ashes to Ashes was a contender for The Best Documentary Short Oscar 2021.
Special Presentations by,
Kiara Boone, Deputy Director of Community Education, Equal Justice Initiative
Robert Meeropol, the son of Abel Meeropol, who wrote the anti-lynching anthem "Strange Fruit,"
Avery Sharpe Musician/Composer/Educator/Producer
Those who register by April 11, 2021 will be entered into a raffle to receive one of the Ashes to Ashes posters, autographed by Winfred Rembert.
Go to Ashes to Ashes website, http://ashes2ashes4ever.com/ under Ceremony/Speak My Name to select a name of a lynching victim to share at the end of the event during the "Say Their Name" ceremony.
In collaboration with Springfield Cultural Council and the Mass Cultural Council