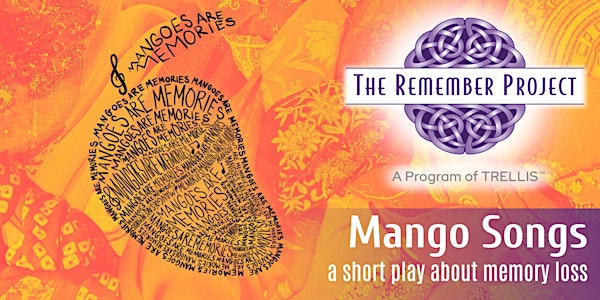 AshaUSA - Mango Songs
Mango Songs by Alia Jeraj / Produced in Partnership with Exposed Brick Theatre With small group discussions to follow theatrical video.
Date and time
Sunday, May 7 · 4 - 6:15pm CDT
Location
Hopkins High School 2400 Lindbergh Drive Minnetonka, MN 55305
About this event
Join our effort to raise awareness and address the stigma of memory loss. This Remember Project event hosted by AshaUSA is part of our 2023 tour. Watch the theatrical video of "Mango Songs," participate in the Dementia-Friendly Communities movement, learn about resources in the Twin Cities Metro, and meet with others who are interested in learning more while supporting those who live with dementia.
Alia is on a journey of discovery, of grieving, and of celebrating her father who left far too soon due to Alzheimer's disease. From the intimacy of a singular storyteller to grasping what can be lost as families move across oceans and adopt new languages and customs, Alia asks, "How do you find a memory everyone has forgotten?"
Sunday, May 7, 2023
Little Theater, Hopkins High School
2400 Lindbergh Drive, Hopkins
Doors Open / Social Hour: 4:00 - 4:30 pm
Light refreshments will be served
Play & Community Conversation: 4:30 - 6:15 pm
This event is hosted by AshaUSA
Mango Songs
Playwright & Performer: Alia Jeraj
Director: Aamera Siddiqui
Assistant Director: Suzy Messerole
Lighting Design: Rachael Cady
Director of Photography/Videography: Hannah Robb
Sound Engineer: Jada LaFrance
Theatrical Video Editing: Hannah Robb
Digital/still photography: Danette McCarthy
Set Design: Danette McCarthy
Production Crew: Kassi Kulow, Kyia Britts, Steve Kath, and Sebastian Kulow
Production Assistance: Stage and Screen Arts/UW-River Falls
The theatrical video for "Mango Songs" is a creative collaboration between The Remember Project and Exposed Brick Theatre.
This program is supported by the Minnesota Department of Health & a BOLD grant.
Learn more about The Remember Project with this short documentary by Hannah Robb. Find resources and additional information at our website The Remember Project.
The Remember Project is one of a family of dementia friendly initiatives supported by Trellis.