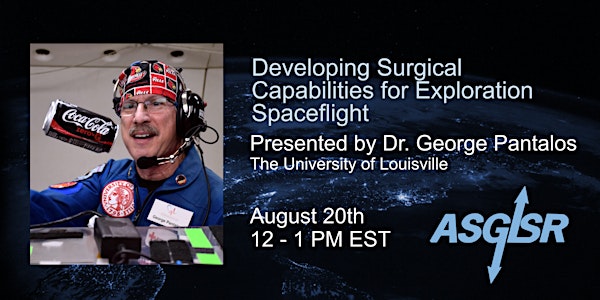 ASGSR-Students Webinar with Dr. George Pantalos
ASGSR presents Dr. George Pantalos
About this event
Abstract:
The collaborators of the Astrosurgery Team at the University of Louisville have been working on advanced healthcare capabilities for exploration spaceflight, with an emphasis on surgical capabilities. This work has included the development of new surgical technology and techniques (including the use of 3D printing), the use of a human-inspired dexterous robot as a medical/surgical assistant, the development of surgical instructional videos for a non-surgeon, long-term blood preservation, and technology evaluation in the reduced gravity of parabolic and suborbital flight. Buckle up and hang on!
Biography:
George Pantalos has been a cardiovascular explorer for over 50 years. Much of that effort has included the development of surgical devices and procedures to make the research projects possible. He has been a Professor of Cardiovascular and Thoracic Surgery and Biomedical Engineering at the University of Louisville, in partnership with Jewish Hospital and Norton Children's Hospital, since July 2000, after holding similar appointments at the University of Utah for 17 years. His efforts to investigate cardiovascular function have focused on understanding and treating heart failure with mechanical devices including artificial hearts, ventricular assist devices, and cardiopulmonary support systems which he has helped develop, test, and implement clinically in patients with two legs and with four legs, with big hearts and with little hearts.
George has also collaborated with NASA for many years helping to understand cardiovascular adaptation to the weightlessness of space flight and the return to Earth. George as flown 58 research missions on the NASA parabolic flight aircraft and led the development of a cardiovascular diastolic function experiment - that included an instrumented artificial heart beating on a circulation simulator - that flew twice on the Space Shuttle Discovery. Other reduced gravity research projects have included delivery of effective chest compressions for CPR in 0-G, organ perfusion in 0-G, and the development of surgical capabilities for exploration space missions which recently flew a suborbital flight on the Virgin Galactic SpaceShipTwo.
George started to donate blood with the Red Cross over 40 years ago in Columbus, Ohio. He is now a regular platelet and plasma donor with the Red Cross and has served on the Board of Directors for several years, focusing on biomedical services. For nearly 12 years, George has worked with students at the University of Louisville to convince the FDA to eliminate the restrictions on healthy, sexually active gay men from being blood donors.
Outside of his research, development, and public policy efforts, George enjoys traveling with his family, playing basketball and biking, being a weekend percussionist, volunteering with the American Red Cross, and making baklava. With his fellow students, staff, faculty, and patients, his motto has always been, "Share the adventure!"