Stanford ASES International Virtual Summit — Engage with Speakers, Workshops, and a Hackathon
About this Event
Join Stanford ASES In Our First-Ever Virtual International Summit Conference!
ASES, Stanford University's premier global student entrepreneurship society, is proud to present our flagship international summit to the public during our one-of-a-kind virtual conference. Each year, ASES hosts Summit, bringing together the best undergraduate innovators from around the globe. In light of the pandemic, we have decided to host Summit 2021 completely virtually, packed with 2 days of learning, design thinking, pitching, networking, and much more!
While the speaker and workshop development events are open to all who wish to participate, we are also accepting applications for an international cohort of students attending university outside the United States to become a part of the Summit alumni family & network! (Details provided below).
With this year's theme of "Entrepreneurship Around The World", we will arm our 2021 attendees with the tools they need to bring change to the problem spaces about which they are most passionate, anywhere in the world.
Attendees Will Participate in Activities Such As:
Engaging talks and hands-on workshops led by elite entrepreneurs, designers, venture capitalists, and Stanford professors
Networking / Social Events
Opportunities to Pitch in Front of Seasoned Stanford and SV experts as part of our International Cohort Hackathon
Speakers:
Marc Randolph — Co-Founder & Previous Founding CEO of Netflix
Adam D'Angelo — First Facebook CTO & Co-Founder/CEO of Quora
Manish Chandra — Founder & CEO of Poshmark
Garry Tan — Founding Partner of Initialized Capital & YC Alumni
Jennifer Spradling — Founder & Co-CEO of FreeWill
Ritu Narayan — Founder & CEO of Zūm
Conference Timeline
All times are noted in PST.
Thursday, April 15, 2021:
4:00 - 4:45pm: Fireside Chat w/ Garry Tan @ Initialized Capital
4:45 - 5:15pm: Kickoff & Introduction to ASES Summit w/ Richard Dasher, Director @ Stanford US-Asia Technology Management Center
5:15 - 6:00pm: Fireside Chat w/ Manish Chandra @ Poshmark
6:00 - 7:00pm: Fireside Chat w/ Marc Randolph @ Netflix
7:00 - 7:30pm: Comparison of Entrepreneurship Ecosystems across Asia w/ Richard Dasher
7:30 - 8:30pm: Student-Focused VC Panel Chat + Q&A w/ Ian Taylor @ Pear VC, Matthew He @ Front Row Ventures, Allison Diaz @ The Thiel Fellowship, and Trinity Donohugh @ Dorm Room Fund
8:30 - 9:00pm: Get To Know ASES w/ Jake Chao & Trinity Donohugh, Stanford ASES Co-Presidents
9:00 - 9:30pm: Conference Attendee Networking
Friday, April 16, 2021:
4:30 - 5:00pm: Conference Attendee Networking
5:00 - 6:00pm: Fireside Chat w/ Adam D'Angelo @ Quora
6:00 - 6:30pm: Informational Chat w/ Mar Hershenson & Pejman Nozad @ Pear VC
6:30 - 7:00pm: Open Chat on Social Entrepreneurship w/ Jennifer Spradling @ FreeWill
7:00 - 8:00pm: Fireside Chat w/ Ritu Narayan @ Zūm
8:30 - 9:00pm: Conference Attendee Networking
9:00 - 9:30pm: Closing Ceremony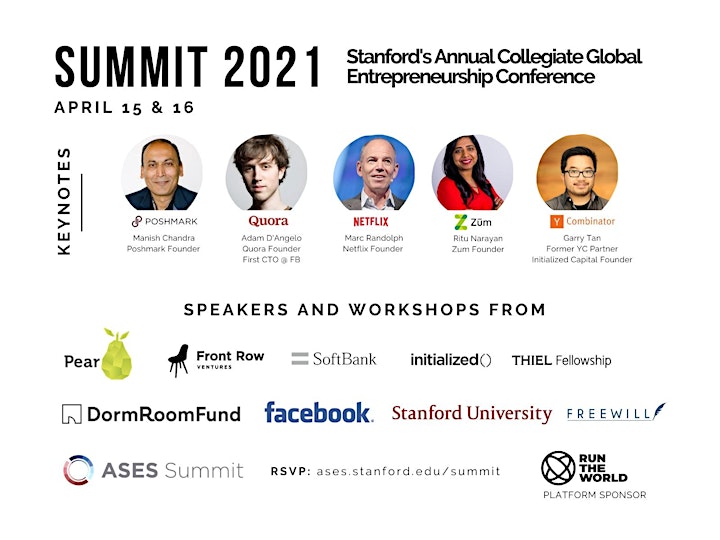 What is the international delegate cohort, and why should I apply?
Note: the international cohort applications are only open to students attending university outside the United States. All students are much welcome to attend the public events held on April 15-16. Delegate members will have the opportunity to participate in the events held on April 17.
Members of the delegate cohort will have networking access to the ASES summit alumni network, consisting of members who attended Summit since the first time the event was held on Stanford's campus! You will be connected to a number of aspiring entrepreneurs from across the globe, with the ability to reach out to anyone whenever you desire.
Stanford ASES also maintains a strong connection with the Summit alumni network, meaning you will be able to connect with prominent alumni living in Silicon Valley and students of Stanford University.
On Saturday, April 17, international delegates will participate in a 3-hour ideathon, where teams will present to prominent Silicon Valley venture capitalists and gain valuable feedback regarding the perspectives needed for becoming a prominent global entrepreneur. Members will also have access to a number of events to better get to know their cohort, the Stanford ASES community, and the alumni network.
Applications are now closed.
For general inquiries feel free to contact us through the following email: asessummit2021@gmail.com.
Virtual Events Platform Partner: