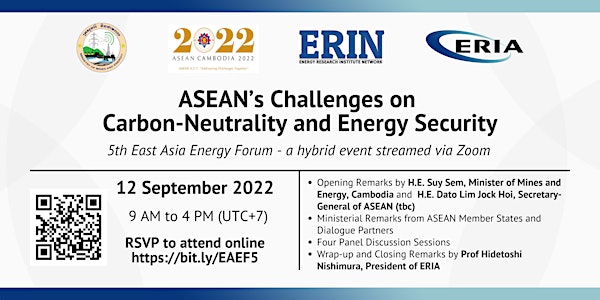 ASEAN's Challenges on Carbon-Neutrality and Energy Security
The Fifth East Asia Energy Forum
About this event
Organized by Economic Research Institute for ASEAN and East Asia (ERIA), Energy Research Institute Network (ERIN), and Ministry of Mines and Energy (MME) Cambodia collaboration with ASEAN Energy Business Forum (AEBF)
Necessity of carbon neutrality was highlighted at COP26, and many developing countries announced their carbon neutral targets by 2050 with international supports, making carbon neutrality is the priority actions. The urgency of carbon neutral-pathways is key priority for both developed and developing countries. The COP 26 called for deep decarbonization before the turn of 21st century, limiting the global temperature rise to well below 2-degree Celsius, and preferably to 1.5 degree Celsius compared to pre-industrial level. Any delayed action could risk triggering impacts of climate change and so catastrophic our world will become unrecognizable. In this regard, the race to carbon neutrality will require climate ambitious actions including the introduction of suite of policy changes and the need to examining all the possibility of low carbon emissions technologies and the renewables. The COP26 has brought approaches of using multiple pathways to carbon-neutrality that could help countries with large dependency on fossil fuels to make a more meaning full of, "just energy transition," to protect social well-beings through energy affordability and security, while at the same time, protecting the global warming simultaneously.
The Russia-Ukraine war has brought an imbalance of demand-supply of fossil fuel in the world. The immediate reduction of oil supply due to the collective efforts of Western-led sanctions on Russian, have made oil market becomes vulnerable; thus, it put pressure on global fossil fuel supply security, as fossil fuels will be needed at least for next decade. The oil market's response to the shock, is the increase of overall energy cost around the world as oil is a global commodity and traded globally. The implication of the supply shortage has a deep effect on energy security for countries around the world. These high energy costs could distract each country's efforts towards long-term decarbonization, with the short-term agenda dominated by domestic energy security in which they are largely dependent on fossil fuels such as coal, oil, and gas.
The world faces univalent challenges: Carbon neutral and supply security of fossil fuels. This means that human will need to reverse the course of our fossil fuel dependency in which we have rely on these fuels to modernize the human wellbeing and economic growth. This reliance and overuse of the fossil fuels have reached a critical limit where the continuous burning of fossil fuels have caused climate change and any delayed action could risk the future climate stability and so catastrophic our world.
Thus, the 5th East Asia Energy Forum gathers many big-minded people including key energy policymakers, public and private entities, financial institutions and research institutes working in the frontier of carbon-neutral pathways to share their thoughts, policy developments, and innovative technologies: renewables, suite of low carbon technologies.