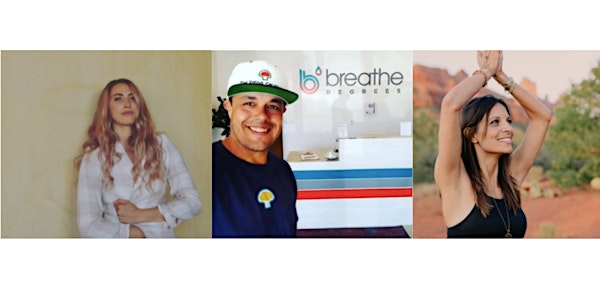 Ascension Yoga/ Breathwork/ Meditation/ Social Mixer
Yoga / Breathwork/ Meditation / Social Mixer
When and where
Location
Gerardo's Home 1855 Frankfort St. San Diego, CA 92110
Refund Policy
Refunds up to 1 day before event
Eventbrite's fee is nonrefundable.
About this event
On Saturday, October 23rd, an All-Star Trio of San Diego's finest health and wellness professionals will teach you how to reach deep into your mind and physiology, unlocking your full potential in what many are calling a transformative, life changing experience.
First, Katie Umbdenstock, a very talented local yoga instructor, will get you stretched out and warmed up, before Gerardo Urias, author of Taking Back My Mind: My Journey Out of Depression with Psilocybin Mushrooms, guides you through a very powerful breath work practice based on ancient Tummo Meditation, boosting endorphins and neurotransmitters, resulting in an amazing peacefulness that always resides inside of us; we simply cloud it with our minds due to our conditioned shallow breathing. After the breathwork, you will be guided deep into your mind by San Diego's own Tamara Schnarr, Meditation Teacher and Life Coach, exploring and releasing trapped tension and self limiting beliefs buried deep underneath our conscious awareness.
You will learn how to access this deep peacefulness no matter where you are or what you are doing, fostering confidence and gratitude for life and Mother Nature.
Connect with yourself on a deep level.
Learn about the intersection of mindfulness, breathwork, and psychedelic medicines. Optional plant medicine microdoses will be available for those who wish to take this practice to the next level. ($10 extra)
Learn how to take your mental, emotional, physical, and spiritual health into your own hands, saying goodbye to big pharma forever.
Network with other healing practitioners and health enthusiasts after the class in a social mixer. Healthy snacks and drinks will be provided.
You may invite your friends. Make sure your guests sign up and claim a ticket from this event page as space is limited.
Bring a yoga mat, towel or blanket, sun glasses and sunscreen as it is an outdoor event, and a bottle of water.
Learn how to:
Optimize your 🧠 & bodily functions
Quiet the noise, quiet the chatter
Shut down your prefrontal cortex; shut down the thinking and analyzing
Activate all your neurotransmitters
Activate your endocannabinoid and endogenous opioid systems
Flood your brain and body with oxygen, oxytocin, and endorphins, "get high on your own supply."
Boost your immune system
Tap into your autonomous nervous system
Control your breath/ control your mind
Meet an amazing group of individuals who are focused on becoming the best version of themselves!
"Ascend" with us!! Honor your body and mind. Take life to the next level! Bring out your true full potential!
To connect with Gerardo: Fb: takingbackmymind / I.G.: gerardourias77/
To connect with Tamara: I.G.: tamaraschnarr_meditation/
To connect with Katie: I.G.: kayumbdenstock/