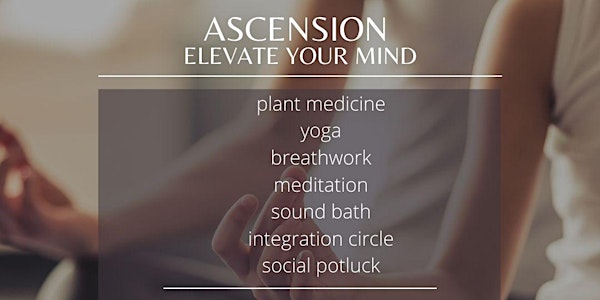 Ascension: Elevate Your Mind
Plant Medicine/ Yoga/ Breathwork/ Meditation/ Integration Circle/ Social Potluck
When and where
Location
Crown Point Park Crown Point Drive San Diego, CA 92109
Refund Policy
Refunds up to 1 day before event
Eventbrite's fee is nonrefundable.
About this event
Ascension: Elevate Your Mind: Crown Point Park, San Diego
Last weekend in Encinitas was pure magic! So much so that we immediately decided to do another Ascension workshop in June!
Join our rapidly growing beautiful wellness community for round three of personal development, self love, self care, and growth!
About this event:
Join Gerardo Urias, author of Taking Back My Mind: My Journey Out of Depression with Psilocybin Mushrooms, Tamara Schnarr, meditation teacher & self love coach, Margy Goodman, yoga instructor, and Kathryn Eipl, sound healer and relationship coach, for another round of soul nourishing yoga, meditation, breathwork, sound healing, integration circle, and a social potluck lunch at the park!
We will start with a basic introduction to Gerardo's mission of educating people on the application of psychedelics for mental health.
We will then have a small ceremony blessing the plant medicine microdoses (optional and not included in ticket price: $10 for one or $15 for two. Bring cash or you can pay by Venmo) that will enhance your experience as you open a window of neuroplasticity in your brain.
Margy will then lead you through a short yoga routine in order to stretch, get warmed up, and out of our heads and into our bodies.
As we finish the yoga routine with a few minutes of shavasana, you will then continue laying down as Tamara Schnarr, meditation coach, leads you through a heart opening meditation.
Gerardo, breathwork facilitator, will then guide you through a very powerful breath work practice based on ancient Tummo meditation, boosting endorphins, boosting your immune system, and inducing "flow state."
As Gerardo guides you, you will serenaded by music and Kathryn's hypnotizing sound bowls.
After another short savasana following the breathwork practice, we will enjoy a picnic style social potluck in the park. Meet new friends and chat about your experience!
We will finish the workshop with a sharing and integration circle (optional) where you will have a chance to share your experience and/ or ask any questions you may have.
Learn the science of breathwork and how it ties in with yoga and meditation.
Learn about the intersection of mindfulness, breathwork, and psychedelic medicines.
Learn how to take your mental, emotional, physical, and spiritual health into your own hands, saying goodbye to big pharma forever.
Meet an amazing group of souls who are committed to reaching their full potential and mingle during the potluck.
You may invite your friends. Make sure your guests sign up and claim a ticket from this event page and bring cash if you wish to augment the experience with a plant medicine microdose.
What to Bring:
Bring a yoga mat for the yoga session and breath work class, a jacket or blanket in case you get cold (the breathwork can cause temperature fluctuations in the body), water, and a cup for ceremonial cacao that will be provided.
Please arrive 30 minutes early by 10:30am to sign in.
Location: At Crown Point Park in San Diego across the parking lot from the basketball courts, towards the main street. If you are facing Sea World with your back to the basketball courts, facing the water, walk south towards Sea World about 100 yards and look for a group of people on the grass to the right towards the main street. If you cannot find us, text or call (858) 289 - 1410.
Learn how to:
Optimize your 🧠 & bodily functions
Quiet the noise, quiet the chatter
Shut down your prefrontal cortex; shut down the thinking and analyzing
Eliminate stress & anxiety
Activate all your neurotransmitters
Activate your endocannabinoid and endogenous opioid systems
Flood your brain and body with oxygen, oxytocin, and endorphins, "get high on your own supply."
Boost your immune system
Tap into your autonomous nervous system
Re-calibrate your nervous system
Control your breath/ control your mind
Potluck:
Social mixer/ potluck to follow workshop. Stay and meet an amazing group of individuals who are focused on becoming the best version of themselves! Bring a healthy dish and pay a reduced ticket price or pay the full price and enjoy an assortment of food and refreshments as we enjoy the beautiful San Diego weather!
Your Facilitators:
Gerardo Urias, Author, Breathwork Facilitator, Public Speaker, Life Coach:
Gerardo Urias is an author, breathwork facilitator, public speaker, and life coach. Gerardo's recently published book details his journey out of depression with psilocybin mushrooms, breathwork, cold plunges, yoga, meditation, and philosophy. In what had become a suicidal downward spiral of depression, Gerardo was jolted out of this trajectory overnight with psilocybin mushrooms. Ever since that day 4 years ago, Gerardo has thrown himself into the world of self awareness, self improvement, and mental, emotional, physical, and spiritual health.
Gerardo now works to raise awareness for "alternative" medicines and therapies for overall health through writing books, filming documentaries, recording podcasts, and holding workshops, classes, and retreats.
Gerardo's current projects include a documentary about his journey, a second book detailing his recent journey with 5MeO-DMT in Tepoztlan, Mexico, wellness workshops in California, and building multiple psychedelic healing retreats in California and Mexico.
Learn more about Gerardo's projects on his website: https://takingbackmymind.com/
Tamara Schnarr, Meditation Teacher & Life Coach:
Tamara is a certified Meditation Teacher and Life Coach. She embarked on her journey of self-growth and healing after immigrating from Germany to the USA and her shortly thereafter divorce. With the support of her Life Coach at the time she experienced major changes and started a regular meditation practice. Noticing all the benefits of meditation, she felt called to share this powerful tool with others.
Tamara has been leading meditation classes and workshops for companies, yoga studios, and wellness Centers in San Diego. You can also book her for one-on-one sessions and retreats.
Her passion lies in deep healing meditations that decrease anxiety and stress and increase self-worth and confidence. She is committed to support others in becoming free of limitations and fear, to step into their full potential and authenticity so that they can live life to the fullest.
During her classes and workshops, she sets a high value on connection and offers a space in which people can share openly and vulnerably. Tamara believes that healing and growing is more fun TOGETHER.
Margy Rose, Yoga Instructor
Margy is a yoga teacher and women's empowerment coach. She's been practicing for 13 years because, for her, yoga is the most well-rounded means to develop personal strength and empowerment–in body, mind and spirit. Margy is so passionate about making all of yoga's teachings (beyond just the physical practice) accessible because they encourage us to cultivate mindfulness and self-awareness, live with intention and reconnect to the true self, so we can grow into our potential "off the mat."
When not teaching or coaching, you can find Margy building community through a yogi book club and twice a month women's circles, doing something active or on an adventure!
M2MRx
Microdoses provided by M2Mrx. Visit them on Instagram to learn more about microdosing and view their products.
Fund Raiser!
This will be the last Ascension workshop for a bit as Gerardo leaves to co-host a workshop in Yosemite (details at www.takingbackmymind.com/events) and then heads to Oaxaca, Mexico to begin working on starting a psychedelic healing retreat as well as continue to film for his upcoming documentary about using alternative medicines, therapies, and modalities for mental, emotional, physical, and spiritual health.
All proceeds will help fund these projects and help raise awareness for mental health.
There will be books, shirts, earrings, hats, and many ways you can help!
We can take cash and Venmo.
There will also be a raffle at the end of the workshop where we will be giving away some swag.
This is going to be epic! We can't wait!
See you in June!
Learn more about Gerardo's journey and how to use psychedelics for mental health at:
View the Taking Back My Mind promotional video below as well as a promotional video for Tandava Retreats where Gerardo was filming part of his documentary project last November.
Connect with Gerardo:
Connect with Tamara:
Connect with Margy:
Connect with Kathryn:
Connect with M2MRx: