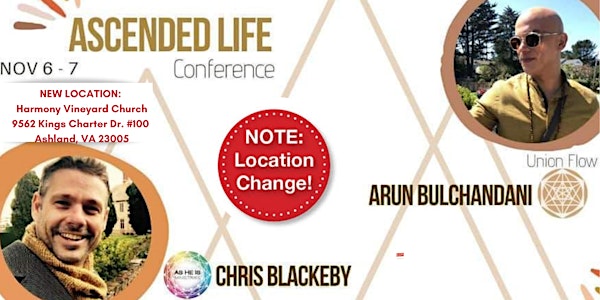 Ascended Life Conference
We are so blessed to have with us Arun Bulchandani from Union Flow and Chris Blackeby from As He is Ministries!
When and where
Location
Harmony Vineyard Church 9562 Kings Charter Drive #100 Ashland, VA 23005
Refund Policy
Refunds up to 1 day before event
About this event
***NEW LOCATION***
We are moving this event only 16 minutes away from the Harvest Renewal Church building to the Harmony Vineyard Church in Ashland, VA. We apologize for any inconvenience.
There is no childcare throughout the conference.
PARKING: There is a free parking lot behind the building. Harmony Vineyard is in a brick office building ( next to the Bundle of Joy Daycare). Drive around to the back of the building and you will find the parking lot and the main entrance.
Hotels near Harmony Vineyard:
1. Candlewood Suites Richmond North-Glen Allen10609 Telegraph Rd, Glen Allen, VA 23059
2. Virginia Crossings Hotel & Conference Center, Tapestry Collection by Hilton1000 Virginia Center Pkwy, Glen Allen, VA 23059
3. Country Inn & Suites by Radisson, Ashland - Hanover, VA11600 Lakeridge Pkwy, Ashland, VA 23005
During this two day conference, they will share on what it means to live a full life in Union with the Father, Son and Holy Spirit. We will learn how to integrate, experience, and reveal the Union of our whole being, body, soul and spirit, with the Trinity. We invite you to join us as we ascend in revelation and knowledge together! (To learn about Arun and Chris, follow the links below)
NOTE: Due to Covid-19 space is limited. We encourage you to sign up as soon as you can to secure your spot. Your health and safety are so important to us. We are taking all the safety measures to ensure a clean and safe space.
SCHEDULE:
11/6 Friday Registration & Coffee -  12:00 pm - 1pm
11/6 Friday afternoon session  - 1 pm- 4 pm 
(Dinner Break)
11/6 Friday Registration 6pm-7pm
Evening Session - 7 pm
11/7 Saturday Registration 9:00 am-9:30 am
Morning Session 9:30-12 pm
( Lunch Break ) 
11/7 Saturday Afternoon Session- 2 pm- 6 pm ( with a small break )
11/7 Saturday Evening- ADD ON
TRIUNE RECALIBRATION WORKSHOP : 10 p.m. - 2 a.m. register here:
https://events.eventzilla.net/e/richmond-va--triune-recalibration--nov-7th-10pm2am--2138790358 (copy & paste link into your web browser)
CONFERENCE ADMISSION: 
Single - $95
Married Couple - $ 150
Online/ virtual ticket: $45 get tickets here: https://harvest-renewal-church.cleeng.com/.../E182526727...
{ Note: One admission fee for two day conference. There is no single day admission fee }
ABOUT THE SPEAKERS:
Arun Bulchandani- has been identified as a Christian mystic, an explorer, advisor, mentor, biohacker, entrepreneur and more. However, his core is Union with God and the Flow this relationship inspires. Therefore, Arun believes that the best foundation for life is within our Christ-centered union with the Person of God. In the Word we see that our relationship with God produces divine intelligence and an ability to exceed the limitations of the natural order. Hence, Arun aids in the transformation of others so they can better realize & further activate their "God-Connect" and potential. His events are for any individual who desires this lifestyle of living within the Creator's Love. https://unionflow.com/
Christopher Blackeby- is an itinerant minister with As He Is Ministries. He travels internationally, releasing a message of Divine union through Christ alone. His emphasis is on our identity as new creation, beloved Sons of God and what that practically means for us today. His gift is to bring concrete understanding and access to abstract concepts and theology, making it applicable in the here and now. Chris' approach is to address people in spirit, soul and body, bringing salvation to the whole man. Born in Australia, Chris is now based in California, USA. However, his love of people and the nations will keep him in a state of constant travel.   http://asheisministries.org/