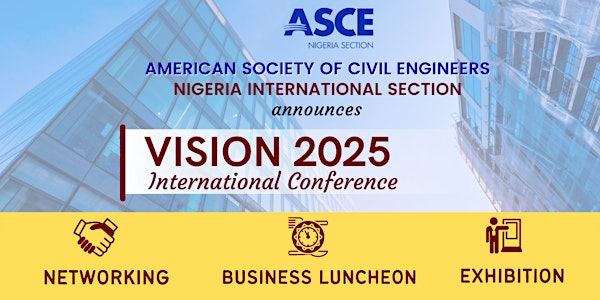 ASCE Vision 2025 International Conference
American Society of Civil Engineers Nigeria Section's Vision 2025 International Conference
When and where
Location
Radisson Blu Hotel, Lagos Ikeja 38-40 Isaac John Street Ikeja Lagos, Lagos 100271 Nigeria
About this event
The purpose of the Vision 2025 International Conference by the American Society of Civil Engineers Nigeria International Section is to bring together critical civil engineering stakeholders and decision-makers from leading global and indigenous construction companies, manufacturers, building owners, energy companies, utility companies, technology companies, as well as the government institutions that are instrumental in building, maintaining and improving the performance of Nigeria's buildings, industrial projects, infrastructure, and products.
The Vision for Civil Engineering in 2025 presents an aspirational global vision for the future of civil engineering, addressing all levels and facets of the civil engineering community. The report is based on discussions from The Summit on the Future of Civil Engineering: 2025, held in Landsdowne, Virginia, United States June 21–23, 2006. Offering the collective wisdom of more than 60 experts from around the world, this report describes the knowledge, skills, and attitudes desirable for a civil engineer in 2025. Today's civil engineers will need to transform themselves to meet the challenges of tomorrow hence, the theme for the conference, CIVIL ENGINEERING AND THE FUTURE OF THE BUILT ENVIRONMENT: OPPORTUNITIES AND CHALLENGES. They must stay abreast of changing technologies, market trends, and business developments. Civil engineers need to develop and implement new methods and products that are sustainable and sensitive to the environment.
Moreover, they must cultivate the new technologies, direct the market, and develop new business practices to lead the transformation into tomorrow.
Therefore, the focus of this event shall be on how to accomplish the vision for the civil engineering profession while facilitating knowledge sharing and collaboration amongst the stakeholders in the built environment.
The speaker lineup is drawn from senior management and engineers that have direct responsibility for areas such as construction, civil engineering, infrastructural management, structural engineering, highway engineering, building services, project management, environmental and waste management, etc who shall address critical topics highlighted below:
(i) Skills, competence, and ethical requirements for a sustainable built environment
(ii) Sustainable stewardship of the natural environment and its resources
(iii) Civil engineers as innovators and integrators of ideas and technology
(iv) Risk management of civil engineering infrastructure
(v) Influencing public infrastructure policy and decisions