Description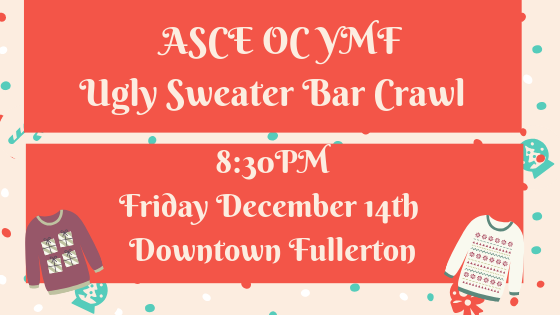 Your friends at ASCE OC YMF are hosting a fun night of social drinking at Downtown Fullerton. Being close to the holidays, it will be a themed event. Time to dig into the far reaches of your closet and look for that ugly sweater you have but probably have never worn. The theme is Ugly Sweater, which is hopefully self explanitory. Matching hats and other articles of clothing are also highly recommended. Time to get into the holiday spirit!
The Bar Crawl will start at 8:30 pm and we will hop around to all the exciting pubs and bars. We shall meet and start at Bootlegger's Brewery (see address above), tucked in the corner of Downtown Fullerton. It has a large outside patio area. From there we can go in any direction and hit up a variety of bars. Some of the more popular ones are Heroes, Matador, Slidebar, Chomps, Back Alley, The Continental Room, and Hopscotch. All are within walking distance of one another, and there are more as well. The bar types can range from pubs, wine bars, live bands playing, and other speciality drink places, so there is something for everyone!
There are places to park as well as the streets off the main road, but it is strongly advised that everyone take a cab, uber, lyft, or get picked up by someone.
Please contact Nestor Godinez at 714-454-8946 or Ryan Hankes at 949-395-1984, for any questions.
Please read our event guide page (http://ymf-oc.org/eventguide) for our current general event and ticket buying guidelines.