Event Information
Refund policy
Refunds up to 7 days before event
ASCE OC YMF is hosting the comprehensive Civil PE Review course with CA State specific exam review, to be held virtually this season.
About this event
Spring 2022 PE Review Course Information
Want to pass the Civil Engineering PE on the first try?
Wondering where to start and what to study?
Want a comprehensive course that offers instruction for the AM and PM modules as well as the California-specific exams?
Want to learn study tips and tricks from experienced and licensed instructors?
Want to have a focused study schedule that is efficient and effective?
If you answered YES to any of these questions, you're in luck because ASCE OC YMF is hosting the Civil Engineering PE Exam Review Course for the Spring 2022. This review course will provide a guided supplement to your studying.
Learn from specialized PE instructors and experienced industry professionals that will cover all seven subjects of the Civil Engineering California PE exam: Water Resources, Structures, Transportation, Construction, Geotechnical, Seismic Principles, and Engineering Surveying. Course is offered at the following levels:
Comprehensive PE Review Course (All Breadth, 1 Depth, Seismic & Surveying)
8-Hour National Exam Review Course (All Breadth, 1 Depth)
Seismic & Surveying Review Course
Seismic Review Course only
Surveying Review Course only
COURSE DETAILS
Course Schedule:
Sessions are conveniently held virtually on Saturdays and/or Sundays from June 4th to July 31st, to accommodate working professionals and students. The National 8 hour exam and the State exams are administered via Computer Based Testing on a continuous basis.
Spring 2021 PE Review Course Class Schedule:
Saturday, June 4, 2022 - Construction
Saturday, June 18, 2022 - Transportation
Saturday, June 25, 2022 - Surveying (Part 1)
Sunday, June 26, 2022 - Surveying (Part 2)
Saturday, July 9, 2022 - Water Resources
Sunday, July 10, 2022 - Water Resources
Saturday, July 16, 2022 - Geotechnical
Sunday, July 17, 2022- Seismic (Part 1)
Saturday, July 23, 2022 - Structural
Saturday, July 30, 2022 - Structural
Sunday, July 31, 2022 - Seismic (Part 2)
Location: Virtual Classes via Zoom
Terms and Condition Policies:
Exam registration is not included. It is the student's responsibility to register for the PE exams. See NCEES and California Board websites for more information on exam registration.
The student must attend all classes during the registered season; no student may postpone any class for the following season. Classes may not be split over multiple seasons.
Valid government-issued ID is required when attending classes. Zoom account name must match information used to sign up.
Please note: Spring 2022's virtual format is a special basis due to COVID-19. Classes are held live and will not be recorded.
Must meet a minimum number of registrations to hold classes.
Retake Policy:
No retake if PE exam is cancelled or postponed. Retakes are strictly for students who fail the PE exam. Email PE Review Chair within two weeks of receiving exam results from the Board. Course enrollee must show official proof of "no pass" of the respective exam from NCEES or state examination provider to the course administrator, and express your intent to retake the class. No new course materials will be provided for retakes. Retake is subject to seat availability. Valid government ID is required when attending classes.
​Refund Policy:
95% refund shall be issued if requested at least four weeks in advance of first applicable course date.
50% refund shall be issued if requested at least two weeks in advance of first applicable course date.
25% refund shall be issued if requested at least one week in advance of first applicable course date.
No refund shall be issued within one week before the first applicable course date.
MEET OUR INSTRUCTORS
Construction Instructor - Dan McAuliffe, PE
Dan McAuliffe is a Project Manager for Morley Builders, where he has successfully helped his team complete hospitality, commercial, parking structures, mixed-use multi-family housing, and educational/institutional projects throughout Los Angeles. Passionate about maximizing efficiency for all project team members, Mr. McAuliffe is particularly interested in building information modeling (BIM) and the implementation of Lean Construction techniques during the construction phase of the project life-cycle. Dan has experience teaching construction engineering and management at California State University, Northridge and UCLA Extension. A California-licensed Professional Engineer, Dan completed his M.S. Civil Engineering - Construction Engineering and Management from USC and his B.S. Structural Engineering from UC San Diego.
Transportation Instructor - Daniel E. Mitchell, PE
Dan Mitchell is an Assistant General Manager and the Chief Engineer for LADOT, the City of Los Angeles Department of Transportation, where he leads the Office of Project Delivery & Operations. His responsibilities include the planning, design, and implementation of the department's capital improvement and safety projects, including Mayor Eric Garcetti's Great Streets and Vision Zero programs. Dan also oversees the day-to-day operation of the city streets, including the traffic signal system and the ATSAC Traffic Management Center. Mr. Mitchell earned a bachelor's degree in Civil Engineering from Loyola Marymount University and a master's degree in Civil Engineering with an emphasis on Transportation Systems from the University of California at Irvine. He is a licensed Civil and Traffic Engineer in the State of California, is certified as a Professional Traffic Operations Engineer, and has over 20 years of experience in transportation and parking management.
About LADOT: The Department of Transportation leads transportation planning, design, construction, maintenance, and operations within the City of Los Angeles. We work together and partner with other agencies to improve safe, accessible transportation services and infrastructure in the city and region.
Surveying Instructor - Ron Moreno, PE, PLS
Ron Moreno is a Senior Engineer and City Surveyor at City of Palm Desert. He is a registered Professional Engineer for the state of California and a licensed Professional Surveyor. Ron Moreno has 27 years of experience working in both private firms and public agencies. He has been an Adjunct Professor at Cal Poly Pomona for almost 12 years.
Water Resources & Environmental Instructor - Anthony Farmand, PhD, PE
Engineering & Business Manager with over 20+ years of experience in Civil & Environmental Engineering, Program & Project Management, Land Development, Supervision, Oil & Gas, Design & Construction.
Instructor of Hydraulics, Hydrology and Environmental Engineering for the Civil PE Exam since 2002
Registered Professional Civil Engineer in all 50 States, Washington DC, and Guam
Adjunct Faculty at Norco Community College
Doctoral in Engineering (D.Eng.) Management – George Washington University (Fall 2018)
MS – Environmental Engineering – CSU Fullerton, CA
MBA – National University – Fresno, CA
BS – Civil Engineering – CSU Fresno, CA
LEED GA – Leadership in Energy & Environmental Design, Green Associate
QSD/P – Qualified Stormwater Developer / Practitioner
CPESC – Certified Professional in Erosion and Sediment Control
Geotechnical Instructor - Ali Shafiee, PhD, P.E.
Dr. Ali Shafiee is an assistant professor in Civil Engineering Department, California State Polytechnic University, Pomona. He has been heavily involved in work related to geotechnical earthquake engineering and ground motion. He was involved in many significant projects including, but not limited to California high speed train project, I-15 Express Lanes, San Dieguito Bridge Replacement, and Train Vibration Study of Del Mar Bluffs. He has received his Ph.D. from UCLA, and has more than 70 journal and conference papers. He has more than 18 years of industry, teaching and research experience in the field of geotechnical earthquake engineering, and ground motion. He is also a board member of ASCE Los Angeles Geo-Institute. He is currently involved in the seismic design of several high-rise buildings in downtown San Diego.
Structural Instructor - Bobby Sokolowski, PE
Mr. Sokolowski is an Associate and Senior Bridge Engineer with T.Y. Lin International. He has over 13 years of design experience in transportation and transportation structures, focusing primarily on complex and aesthetically appealing bridges. Mr. Sokolowski has also served as a part time lecturer in the past, teaching fluid dynamics at Cal State Long Beach.
Seismic Principles - Suraj Patel, PE
Suraj Patel is a licensed professional engineer working as a Structural Engineer at Holmes in Downtown Los Angeles where he specializes in the seismic retrofit and repurposing of historic existing buildings, large-scale commercial spaces, and the structural design of intricate art installations. He received his B.S. in Civil Engineering from UCLA in 2017 and his M.S. in Structural Engineering from Berkeley in 2018. But beyond that―Suraj is someone who cherishes being part of a community and holds the personal goal of becoming a lecturer. He has been involved with ASCE and the UCLA Engineering Department for many years. His hobbies include playing basketball and ultimate frisbee, riding his bike, snowboarding, and watching movies. I look forward to meeting you!
Course Enrollment Rates:
ASCE OC YMF is hosting the Annual PE Review Course to provide our members and local civil engineering community with quality instruction to help prepare for the PE exam. As a non-profit, we maintain our commitment to keep rates fair and highly competitive since all proceeds go towards funding scholarships, technical tours, seminars, meetings, K-12 outreach, university outreach, and community service events. Instructor notes will be provided a day prior to the first class.
PE Review Committee Co-Chairs:
Alexandra Dubrock, Gabriela Ruiz and Tyler Hodges
Email: asceocpereview@ymf-oc.org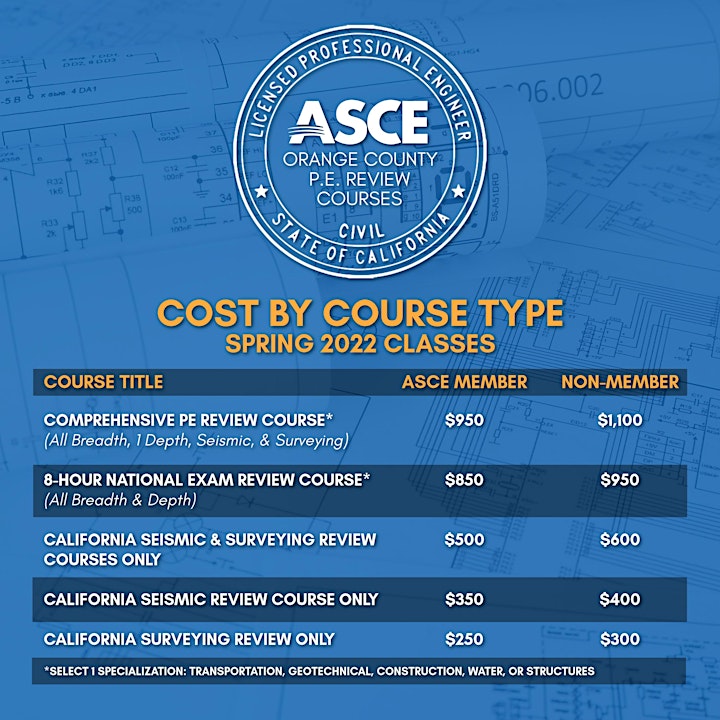 Date and time
Location
Refund policy
Refunds up to 7 days before event