Description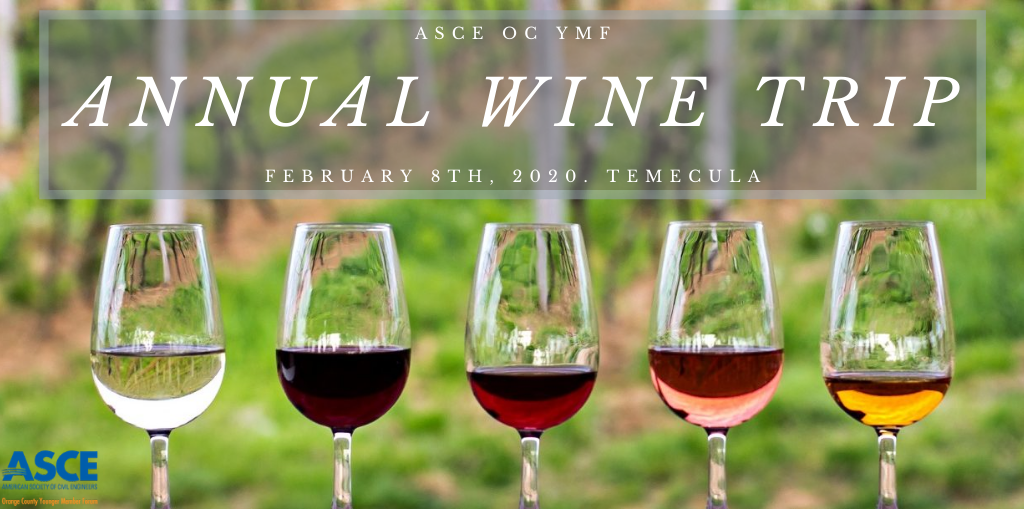 The moment has finally come for our Annual Temecula Wine Tasting Trip! Enjoy a day trip to Temecula, CA and sample wines from different wineries. Award-winning wineries flourish in Temecula Valley, offering their delicious, locally made wines at affordable prices. We will be stopping by FOUR wineries!
Each winery offers 5 to 6 tastings and the costs are listed in the descriptions. Transportation, snacks, water, and lunch will be provided for attendees. Pick up location will be in Irvine at the Mark Thomas Office (see address above). Tickets can only be bought through this page via credit card. Space is limited to 30, so buy your tickets quick! Once the 30 tickets are sold there will be a waitlist based on first come first serve. Please eat a good breakfast before you arrive. Hope to see everyone there!
Any questions contact Darlyn Hernandez at darlynhernandez14@gmail.com or (424) 207-0655 or Raul Rodriguez at rrodriguez300@gmail.com. See the tentative schedule below.
8:45 am Orange County pick-up
Mark Thomas
16795 Von Karman Ave, Irvine, CA 92606

(424) 207-0655 (Darlyn's Cell)
9:00 am Depart from Orange County
Callaway (10:30 am)
Our first stop will be at this great winery! This tasting room has an extensive menu of award winning wines and a variety of fun ways for their guests to enjoy a unique Temecula wine tasting experience. Tasting here cost $20 for 6 tastings.
Europa Village (11:45 am)
At our second stop, we are going to enjoy a beautiful view of the vineyards from this winery's unique vantage point. Here you'll be able to savor the pastoral beauty and serenity of lush, rolling vineyards in their enchanting European courtyard setting. This winery offers 6 tastings for $25 and includes a logo wine to take home. This beautiful winery is an exciting place to continue our wonderful trip.
Maurice Car'rie (12:45 pm)
Another great winery, but also famous for their bread. A tasting will cost you $15, but I highly recommend getting a bottle of your favorite kind of wine to share with friends, since this will be our lunch spot as we enjoy their picnic area (separate from the tasting room) and feast on cheese, meat, and crackers (provided by YMF). Now about their bread, they bake world renowned sourdough bread filled with brie cheese. One loaf will feed 4-6 people. It's cheesy and garlicky with a butter flavor...a fan favorite, you will not be disappointed!!! (Not provided by YMF) One loaf will cost about $17, so please plan to share with friends. This is our lunch plan so if you have any questions, please let us know ahead of time.
Peltzer (2:00 pm)
Our last winery on the list! Peltzer offers a quaint farm atmosphere and an industrial-chic winery with a vintage feel.Tastings here will run at $20 per person for 6 tastings . Enjoy some more tastings around their local farm and vintage collectable items. It will be a great conclusion to our Temecula wine trip!
3:00 pm Return
5:30 pm Drop-off at Irvine location