Description
Our Annual Orange County YMF Speaker Series Event is here (award winning, Western Regional YMF Event). The 2018 Speaker Series "The Complete Engineer - Unlock Your Potential" is a month-long event where we bring together a series of interactive presentations by four prominent and well-respected members in the civil engineering field. Through these sessions, engineers will find the tools to unlock their potential by taking a look at valuable, desirable, non-technical abilities and skills. Join us for these valuable small group presentations with leaders in the industry while they share valuable insight and experiences.
Sessions Include:
"Learning Agility Leadership: How to Adapt & Thrive in Change" by Maricel Perez-Lovisolo - May 1st: This interactive presentation will explore the five factors of learning agility that all leaders need to succeed and effectively adapt in an ever changing world. Find more information about the speaker here
"Creativity Wanted, No Experience Necessary" by Rob Himes - May 8th: The more creative and innovative you and your team members are, the more long term success you will achieve. Creativity is the start to innovation and innovation changes the world. Come find out how to be a world changer with this interactive presentation. Find more information about the speaker here
"Communication: Good Practices, Approaches and What to Avoid" by Ernesto Chaves - May 15th: For engineers to be successful over the course of their careers, communication skills are just as important as technical knowledge. Come find out how to build a toolkit of communication skills that will give you the knowledge and confidence to be an effective engineering leader. Find more information about the speaker here
"Personal Branding, Pie, and Planning: Essential Ingredients for Career Success" by Elizabeth Ruedas - May 22: It is not what you know or who you know that matters, but rather who knows you! In fact, career success is 60% dependent upon the amount of exposure we get. Come find out how to efficiently and effectively maximize your exposure with this interactive presentation. Find more information about the speaker here
NOTE: Sponsorship opportunities are available. Please contact speaker series chairs for more details.
*Please note that light dinner is included in the cost of registration. All events will be held at Tetra Tech, in Irvine.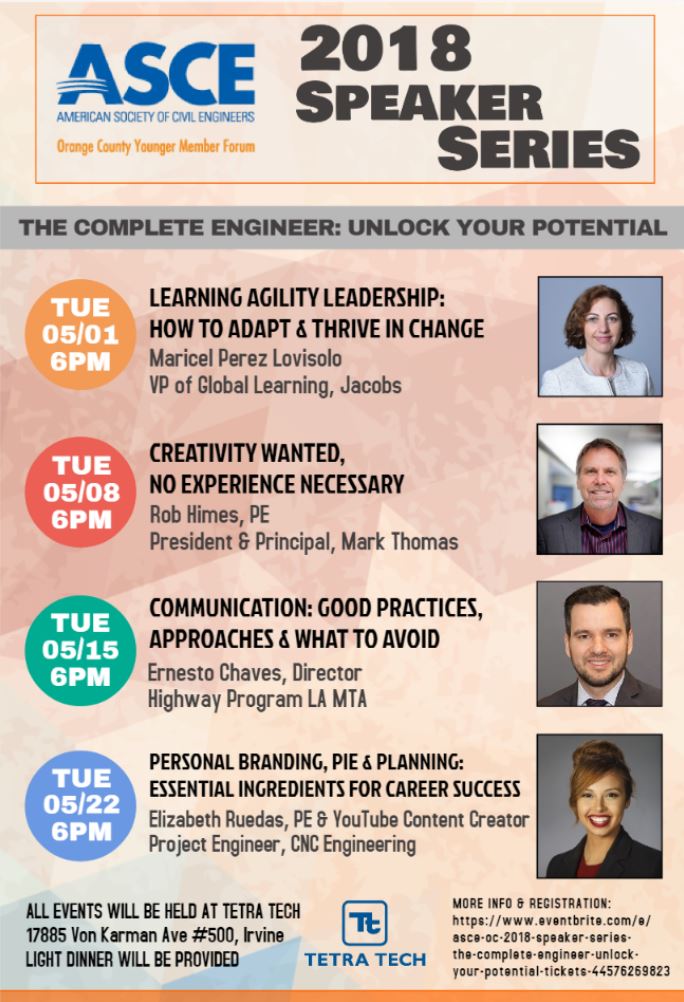 For more information please contact OC YMF Speaker Series Chairs; Anne Girtz at agirtz@westyost.com or Guillaume Iradukunda at guillad101@hotmail.com
Please read our event guide page (http://ymf-oc.org/eventguide) for our current general event and ticket buying guidelines.
Info on parking and entrance location at Tetra Tech, Irvine: