ASCE OC-YMF 2015 Speaker Series Closing Event- Renate Mousseux

Tuesday, May 19, 2015 from 6:00 PM to 8:00 PM (PDT)
Event Details
It is time for our annual Orange County YMF Speaker Series Event (award winning Western Regional YMF Event)!
The 2015 Speaker Series "Engineering: Behind the Scenes" brings together a series of presentations by four prominent and well-respected members in the civil engineering field. This year's series builds upon last year's event "Leadership and Success" by taking a look at the valuable, desirable, non-technical abilities and skills. These skills helped these professionals become successful and are sought by seasoned professionals as pivotal skills for an up-and-coming young engineer. Join us for these valuable small group presentations with leaders in the industry while they share valuable insight and experiences.
This year, as a closing to the Annual OC YMF Speaker Series, a joint dinner event between OC YMF & OC Branch is being held with a soft-skills presentation on Body Language.
 Please register on the main event page at 2015SpeakerSeries.eventbrite.com
On April 21st, Patti Boekamp will speak on "Road Blocks: Changes in your Career" This event will focus on taking risks by moving job positions, company changes, and/or career shifts (ex. different engineering, engineering to management, etc.) Bio can be found here
On April 28th, Natalie Meeks will speak on "Managing Large Projects." This event will focus on large project coordination and the various types of people you will engage with, from coordination to presentations. Bio can be found here
On May 5th, Rob Himes will speak on "Management that Works." This event will focus on young professional growth and team management. Bio can be found here
On May 12th, Bob Bein will speak on "Developing and Sustaining Genuine Connections." This event will focus on how to make genuine network connections and develop the relationship over time and distance. Bio can be found here 
On May 19th, Renate Mousseux will speak at our special closing event on "Body Language and Its Power (For Architects and Engineers)." This event will focus on the different tools to help you become a more effiective and successful communicator. Bio can be found here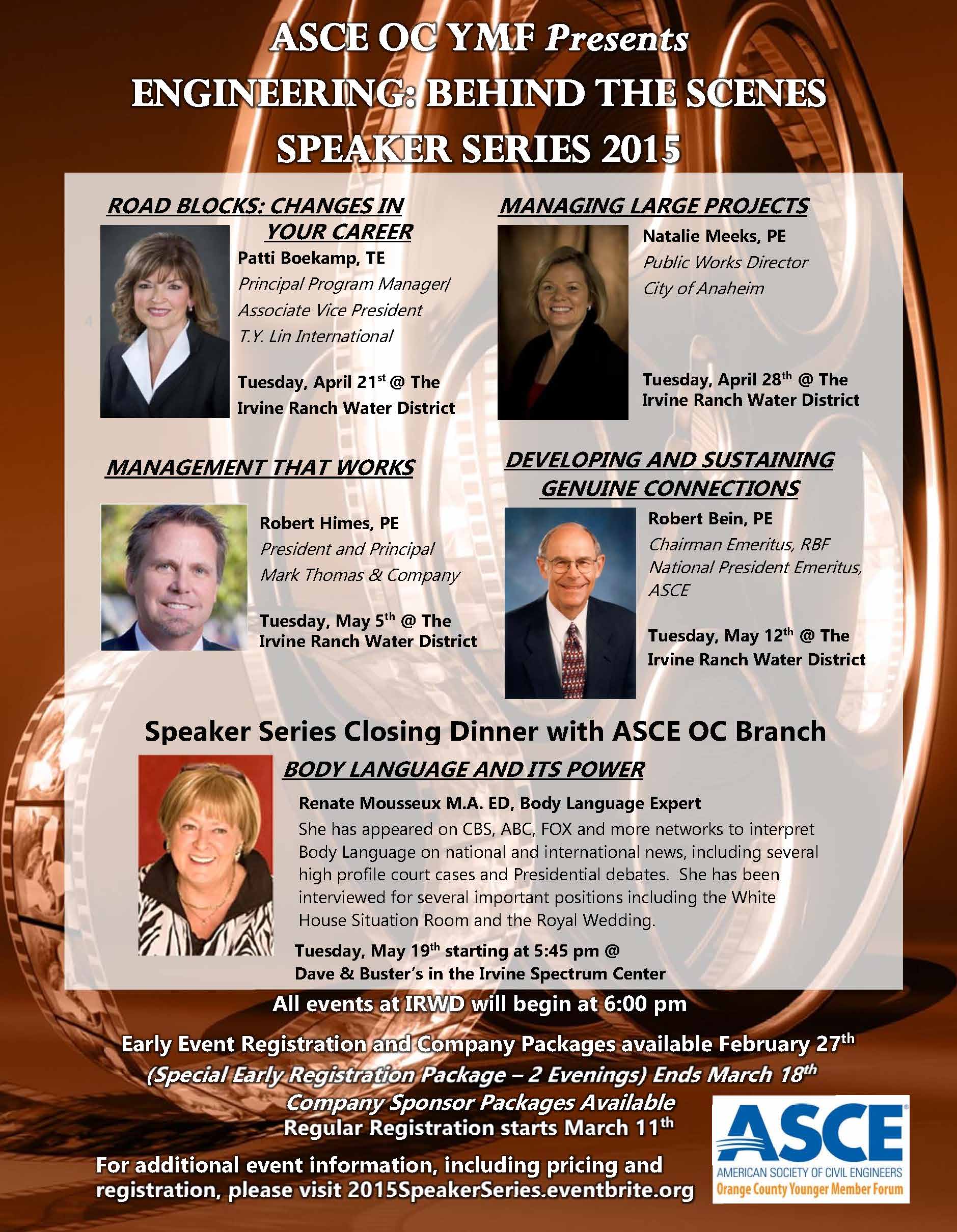 Price Schedule
Single Event
2 Event Package
3 Event Package
Entire Series
 

Closing Event

Presale Price

N/A

$60

$90

 $110

$25

Regular Price

$35

N/A

$90

 $110

$30

Late Price

$40

N/A

N/A

 N/A

$40

Non Member

$50

N/A

N/A

 N/A

$60
*Please note that dinner is included in the cost of registration and that the multiple ticket packages do not include the closing event. Single event tickets will be available on March 11th. All events will be held at IRWD, except for the closing event which will be at Dave and Buster's in the Irvine Spectrum.
For more information please contact OC YMF Membership Chair, Marcela Opie at marcela@lawsonburke.com, or OC YMF Treasurer, Oscar Rivera at orivera@hfinc.com
Please read our event guide page (http://ymf-oc.org/eventguide) for our current general event and ticket buying guidelines.
When & Where

Dave and Busters
71 Spectrum Center Drive
#960
Irvine, CA 92618


Tuesday, May 19, 2015 from 6:00 PM to 8:00 PM (PDT)
Add to my calendar
Organizer
ASCEOC_JointBranchYMF
This is for events that are hosted by both the branch and YMF.
ASCE OC-YMF 2015 Speaker Series Closing Event- Renate Mousseux