ASCE OC is partnering with #MovingForwardTogether Coalition to fundraise for those affected by COVID-19
About this Event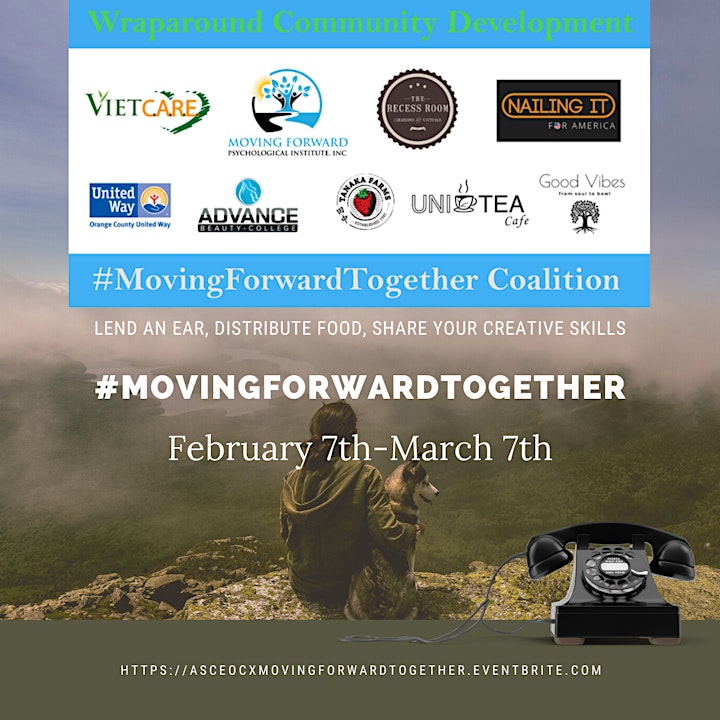 ASCE OC is partnering with #MovingForwardTogether Coalition to fundraise for those affected by COVID-19 by providing food, monetary donations and social support.
ASCE OC is partnering with #MovingForwardTogether Coalition to help fundraise to support food costs and provide social support. The coalition needs volunteers to make phone calls to check-in on seniors and others served by their program. They are also looking for someone with video editing skills to create a short film for interviews with participants to promote the cause, as well as social media savvy tips and tricks. Sign up on this Eventbrite to volunteer!
To Learn More About #MovingForwardTogether Coalition and how to be a volunteer with their program see their volunteering Eventbrite here:
https://www.eventbrite.com/e/operation-movingforwardtogether-food-distribution-volunteer-sign-up-tickets-116174812993
About Moving Forward Together
Operation #MovingForwardTogether was started by Mr. Paul Hoang, LCSW of the Moving Forward Psychological Institute (MFPI) in March of 2020 in response to COVID-19 restrictions. At first, the operation focused on the needs of the many senior citizens isolated at the beginning of the restrictions by providing a weekly mental health check-in and a hot meal. They have now expanded their focus to include people recently unemployed with limited access to support services.
Paul has extensive experience in clinical social work, mental health, crisis prevention/intervention, and crisis negotiations as a psychiatric first responder. Utilizing those skills, since May 2020, Operation #MovingForwardTogether has become the #MovingForwardTogether Coalition consisting of 10 private and public organizations coming together and collaborating to Feed with Compassion, Acceptance, Reassurance, and Empowerment or C.A.R.E. for short.
Volunteer services provided by the coalition include delivering and distributing hot meals to residents in 15 different Orange County cities and a regular check-in with isolated seniors. The coalition includes a social-emotional wellness program that organizes different community events to help instill and enhance hopes and resources for individuals with autism, caregivers, local businesses negatively impacted by COVID-19, and mental health challenges.
#MovingForwardTogether Coalition's bi-monthly hot meals program is made possible by the generosity of the Recess Room Restaurant in Fountain Valley, California, who donates their time, energy, and resources to purchase and cook hot meals for 500+ community members every 2 weeks. #MovingForwardTogether Coalition's goal is to establish and enhance private-public partnerships to create effective and meaningful programs for a healthier, safer, and happier community for all.
Check out the Moving Forward Psychological Institute Website to find Mr. Paul Hoang's Contact Information here:https://www.mfpinstitute.com
Please contact ASCE OC YMF Community Service Committee at communityservice@asceoc.org for any questions. 
Please read our event guide page (http://ymf-oc.org/eventguide) for our current general event and ticket buying guidelines.