ASCE OC & SONRIE - 2019 Toy Drive!

Thursday, October 17, 2019 at 12:00 AM

-

Thursday, December 12, 2019 at 7:30 PM (PDT)
Event Details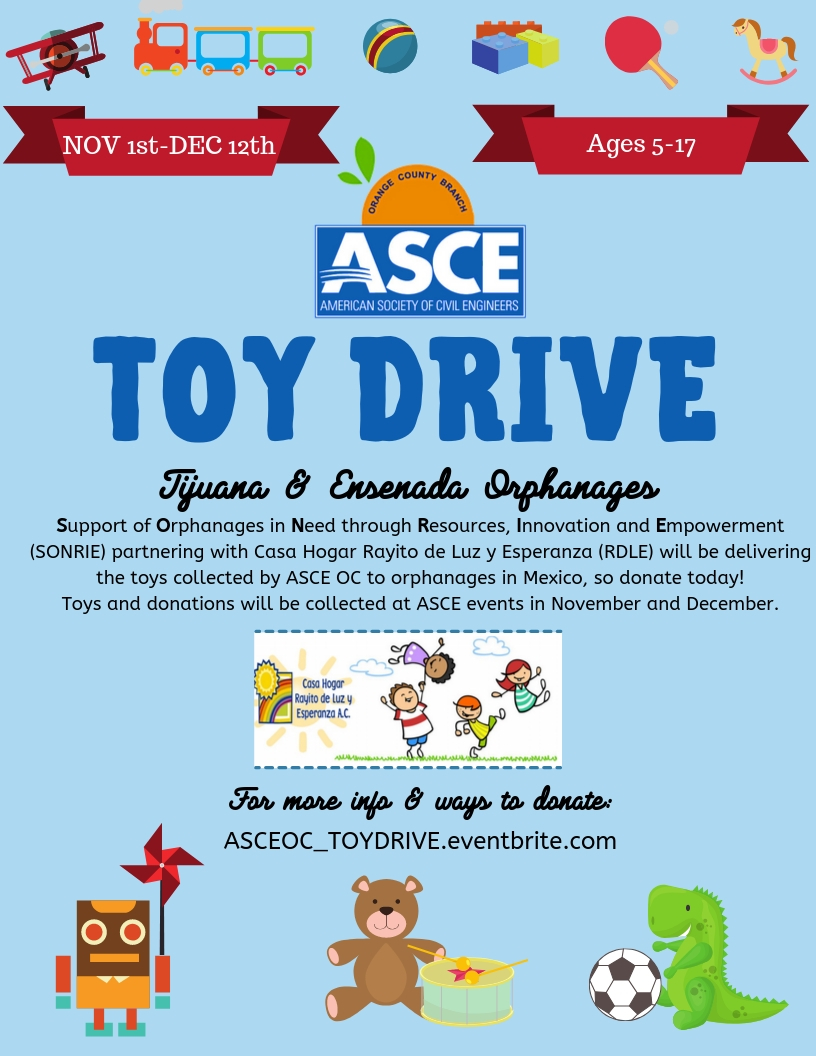 ASCE OC and S.O.N.R.I.E. are collaborating efforts for a Toy Drive from November 1st to December 12th, 2019!  S.O.N.R.I.E is a joint project put together by SHPE UCI students and SHPE OC professionals. Their mission is "to enhance the living conditions of kids living in local orphanages and through mentoring, develop successful and professional leaders for their communities."  They have developed a partnership with the orphanage, Casa Hogar Rayito de Luz y Esperanza (RDLE), in Tijuana, Mexico. In addition, the toys collected will be distributed at orphanages in Ensenda, Mexico, where there is a need as well.
To learn more information about S.O.N.R.I.E. and ways to get involved, go to: https://sites.google.com/view/sonrie-usa/about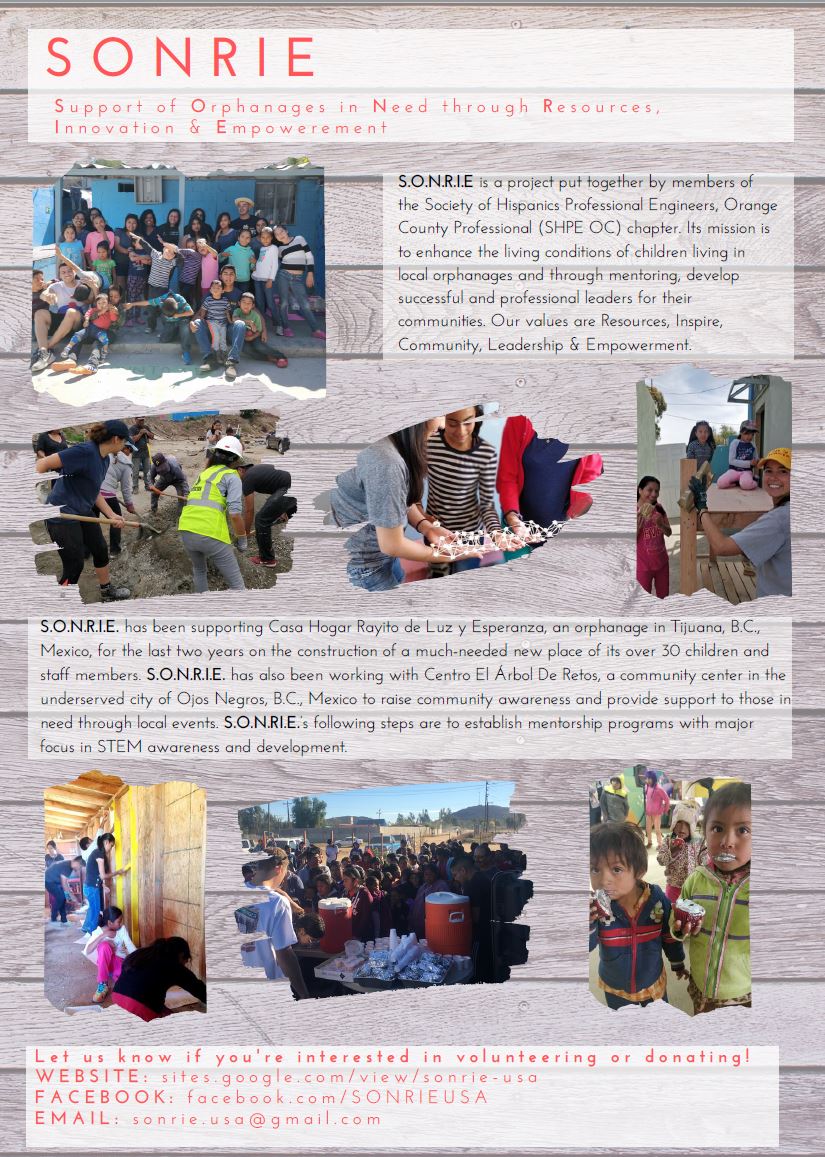 How & When to Participate
To donate please bring your toy to one of the following Events:
Oct 24, 2019 - ASCE OC Branch Board Meeting @ Gayle Stewarts

Nov 5, 2019 - Bridging the Gap From Design to Construction: An Introductory Series

Nov 20, 2019 - ASCE OC YMF

November Board Meeting @ LCA

Nov 21, 2019 - ASCE OC Branch Board Meeting @ Gayle Stewarts 

Nov 21, 2019 - History & Heritage/Student Scholarship Night: Bring a toy for a raffle entry!

Or schedule a pick up by contacting Outreach Co-Chair: Kayla Kilgo

 at kkilgo@cwecorp.com
Any Other Ways to Donate?
If you would like to donate but cannot pick up and deliver a toy to an event, please contact Kayla Kilgo at kkilgo@cwecorp.com or Cesar Becerril at csbecerr@gmail.com to arrange donations!
Also, a donation option is available on Eventbrite!
Comments, Questions, Concerns? Feel free to contact one of the Community Outreach Committee Co-Chairs:
Save This Event
When & Where
Accepting Donations @ Branch & YMF Events
CA 92612


Thursday, October 17, 2019 at 12:00 AM

-

Thursday, December 12, 2019 at 7:30 PM (PDT)
Add to my calendar