It's time to CELEBRATE the Class of 2021! Congrats to all the ASCE OC Student Chapters UCI, CSUF, and CSULB graduates.
About this event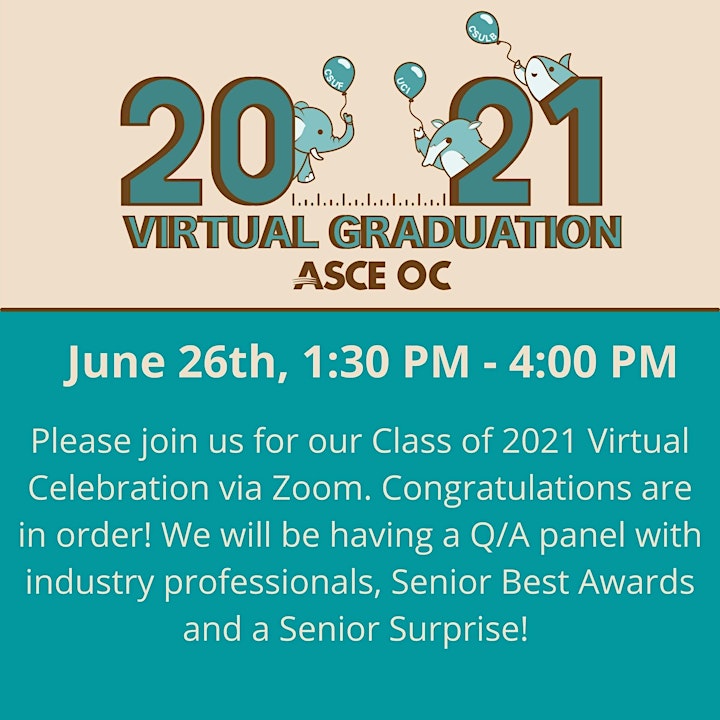 It's time to CELEBRATE the Class of 2021! We are so excited and proud of all our ASCE OC students graduating and will recognize this year's seniors with "Senior Best" awards and a "Senior Surprise." All class levels, family, and friends are welcome to join and cheer on their student! Underclassmen are encouraged to come celebrate their seniors AND benefit from the event as well. The virtual graduation will include a Panel of 5 Industry Professionals, giving all students the opportunity to have their questions answered about working through a pandemic.
The Virtual Graduation will be held via ZOOM, with the meeting ID and password to be sent out to registered participants prior to the event.
*Agenda to be posted soon!
CONGRATS CLASS OF 2021 and we hope to see you all soon!
*Graduating Seniors, Please be sure to submit all necessary information and photos to be recognized during the event.
Please contact sac@asceoc.org if you have any questions.
Read our event guide page (http://ymf-oc.org/eventguide) for our current general event and ticket buying guidelines.