ASCE OC Branch/Sustainability Luncheon - Envision Advances from SoCal to Hawaii: Ports, Airports, and Farms

Thursday, October 20, 2016 from 11:30 AM to 1:00 PM
Event Details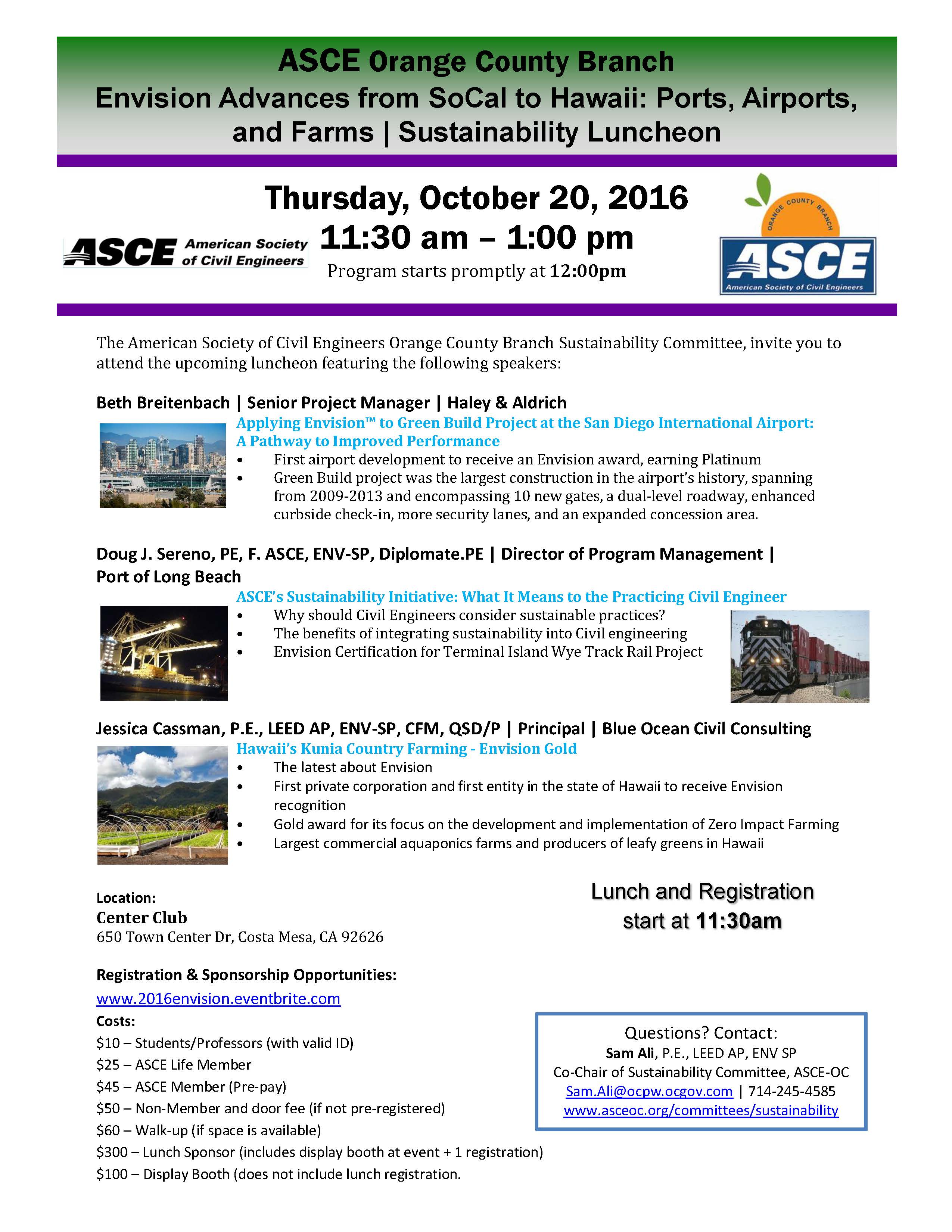 TOPIC -  Envision Advances from SoCal to Hawaii: Ports, Airports, and Farms

The ASCE Orange County Branch would like to invite you to attend the October Luncheon Meeting for a speaker series on Envision Advances from SoCal to Hawaii: Ports, Airports, and Farms. We are fortunate to have notable leaders in our industry to share applying Envision on their respective fields.
 Speakers:  
Doug J. Sereno, P.E, F. ASCE, ENV-SP, Diplomate PE, Director of Program Management, Port of Long Beach
ASCE's Sustainability Initiative: What It Means to the Practicing Civil Engineer
• Why should Civil Engineers consider sustainable practices?
• The benefits of integrating sustainability into Civil engineering

Beth Breitenbach, Senior Project Manager, Haley & Aldrich
 Applying Envision™ to Green Build Project at the San Diego International Airport: 
A Pathway to Improved Performance 
• First airport development to receive an Envision award, earning Platinum
• Green Build project was the largest construction in the airport's history, spanning from 2009-2013 and encompassing 10 new gates, a dual-level roadway, enhanced curbside check-in, more security lanes, and an expanded concession area.
Jessica Cassman, P.E., LEED AP, ENV-SP, CFM, QSD/P ,Principal, Blue Ocean Civil Consulting
  Hawaii's Kunia County Sustainable Farming - Envision Gold
• First private corporation and first entity in the state of Hawaii to receive Envision recognition
• Gold award for its focus on the development and implementation of Zero Impact Farming
• Largest commercial aquaponics farms and producers of leafy greens in Hawaii

   Contact marketing@asceoc.org for sponsorship opportunities.
Organizer
ASCE Orange County Branch
This Branch was created in 1952 to allow civil engineers to network, exchange ideas, build leadership skills, create lifelong professional connections, and improve the quality of life on Orange County.
ASCE OC Branch/Sustainability Luncheon - Envision Advances from SoCal to Hawaii: Ports, Airports, and Farms