ASCE OC Branch & Sustainability Committee July Luncheon - Sustainability in Land Development

Thursday, July 20, 2017 from 11:30 AM to 1:00 PM
Event Details
TOPIC - Sustainability in Land Development

The ASCE Orange County Branch and Sustainability Committee invite you to attend the July Luncheon featuring the following speakers: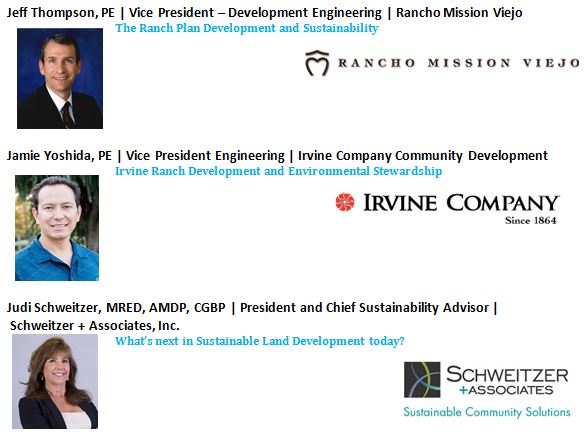 ABOUT THE SPEAKERS:
Jeff R. Thompson, P.E.
Vice President of Development Engineering
Rancho Mission Viejo, LLC
Jeff R. Thompson is Vice President of Development Engineering for Rancho Mission Viejo, L.L.C., managers of the 23,000-acre Rancho Mission Viejo "Ranch Plan" (Orange County's second largest privately-owned land holding) and master planners of the 4,000-acre Ladera Ranch community.
Over the past eleven years, Jeff has been supporting the implementation of the Ranch Plan's 14,000 dwelling units and 5.2 million square feet of office/retail/urban activity uses through procuring and enhancing land entitlements and facilitating design for construction of infrastructure.  Efforts have included disciplines for watershed drainage, water quality, traffic modeling, highways, roadways, water, sewer, recycled water, power distribution, and telecommunications.
Jeff's 20 years prior experience includes Walt Disney Company for the Disneyland Resort expansion, CH2M Hill for the Design/Build team of the Eastern Transportation Corridor, and consulting to governmental municipalities, districts, and schools.  He is licensed as a Civil Engineer and Land Surveyor in California.  He serves as a member of Citizens Advisory Committee for OCTA and Planning Commission for the City of Tustin.  Jeff earned a Bachelors and Masters Degree in Civil Engineering from CSU Long Beach and a Masters Degree in Business Administration from USC.  
Jamie Yoshida, PE, P.L.S.
Vice President Engineering
Irvine Community Development Company 
Mr. Yoshida currently serves as Vice President, Engineering at Irvine Community Development Company.  Some key projects he has worked on include: Newport Coast, Crystal Cove, Turtle Ridge, Shady Canyon, Quail Hill, Northwood, Woodbury, Portola Springs, Orchard Hills, Cypress Village, Santiago Hills II, and Mountain Park.  He previously worked at Van Dell and Associates for seven years in positions ranging from Design Engineer to Executive Vice President.  While at Van Dell and Associates he worked on several infrastructure, residential, retail, and industrial projects primarily in Southern California.  Outside of work he likes to golf, travel, and spend time with family and friends. He has MSCE and BSCE degrees from the University of California, Irvine.  
Judi G. Schweitzer, MRED, AMDP, CGBP
President / Chief Sustainability Advisor
Schweitzer + Associates, Inc. 
Judi G. Schweitzer has been pioneering sustainable real estate development practices since the early 1990's and is a recognized global leader in the field. She advises public agencies, universities, utilities, landowners, capital providers and organizations in optimizing their triple bottom-line value of implementing sustainability with sound real estate decision-making. Judi founded Schweitzer + Associates, Inc. in 2006 to apply her 25+ years of experience in real estate development, land use entitlements, underwriting due diligence, design, and economics to the challenges facing owners of legacy properties, their teams and stakeholders. With her clients, Judi creates projects that are innovative and economically viable, environmentally responsible , and socially valuable for today and tomorrow. 
For Questions, please contact Sam Ali, P.E., LEED AP, ENV SP
                                             Co-Chair of Sustainability Committee
                                             Sam.ali@ocpw.ocgov.com / 714-245-4585
                                             www.asceoc.org/committees/sustainability
Contact marketing@asceoc.org for sponsorship opportunities.
Organizer
This Branch was created in 1952 to allow civil engineers to network, exchange ideas, build leadership skills, create lifelong professional connections, and improve the quality of life on Orange County.
ASCE OC Branch & Sustainability Committee July Luncheon - Sustainability in Land Development